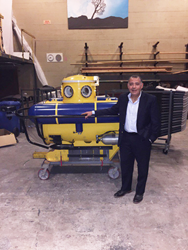 "Students across different concentrations will learn how to define, develop, and integrate specific instruments based on an individual experiment's requirements or mission plan." –Jani Macari Pallis, Ph.D., Associate Professor, Mechanical Engineering, UB
BRIDGEPORT, C.T. (PRWEB) November 10, 2016
The University of Bridgeport announced today that it has obtained an 8-foot, 2,300-pound submarine for educational purposes. The submarine, titled "Explorer," is on loan to the school for an extended period of time to be used by engineering faculty and students for research and experimentation. Alan Winnick, a Westport-based inventor, provided Explorer to UB.
Various projects have been identified for the submarine, including enhancing the performance of its thrusters, modifying its control systems, and adding tele-operation (remote control) capabilities. Future plans envision potential manipulation capabilities, such as a robotic arm.
"The introduction of Explorer to UB's curriculum calls for a reliance on interdisciplinary collaboration and engagement from our entire School of Engineering," said Tarek M. Sobh, Ph.D., P.E., Dean of the School of Engineering and Senior Vice President for Graduate Studies and Research at UB. "Our students will be instructed in Explorer's systems, operation, and maintenance, as well as the fundamental science surrounding the hostile environment in which the vehicle operates."
The acquisition of the submarine demonstrates UB's commitment to offering modern research opportunities, education, and facilities to students in the School of Engineering and its other progressive colleges of study.
"Students across different concentrations will learn how to define, develop, and integrate specific instruments based on an individual experiment's requirements or mission plan," added Jani Macari Pallis, Ph.D., Associate Professor, Mechanical Engineering, School of Engineering. "One study may focus on direct observation or investigation of a specific location or unique environment, while another may focus on marine archaeology, environmental monitoring, or characterization of an ecosystem."
To learn more about the University of Bridgeport's School of Engineering, visit http://www.bridgeport.edu/academics/schools-colleges/school-engineering/.
About University of Bridgeport
The University of Bridgeport offers career-oriented undergraduate, graduate and professional degrees and award-winning academic programs in a culturally diverse learning environment that prepares graduates for leadership in an increasingly interconnected world. There are 400 full- and part-time faculty members, including Fulbright Scholars, National Science Foundation Fellows, Ford Fellows, National Endowment for the Humanities Fellows, American Council for Learned Societies Scholars, and Phi Beta Kappa Scholars. The University is independent and non-sectarian. For more information, please visit http://www.bridgeport.edu.