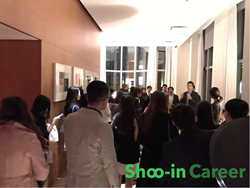 Shoo-in Career designed Halloween Cocktail Party to be useful for international students to network with industry professionals. We welcome everyone to enjoy the Halloween happy hour time when talking about career topics.
New York, NY (PRWEB) November 10, 2016
Shoo-in Career's Halloween Cocktail party was successfully held on Oct 28th, 2016. Shoo-in Career welcomed fifty guests to the New York Gehry Building- the tallest residential tower in America, created by the most acclaimed architect of our time, Frank Gehry.
"Shoo-in Career designed this event to be useful for international students to network with industry professionals. We welcomed everyone to enjoy the Halloween happy hour while talking about career topics," said Chloe Zhou, the Marketing Director of Shoo-in LLC.
The party happened from 6:30 p.m. to 8:30 pm on the 7th floor at 8 Spruce Street. A mentor, who graduated from the University of Wisconsin-Madison and now serves as a senior manager at a top global accounting agency. An anonymous guest who graduated from Harvard medical school with the major in Neuroscience, now has transformed to a project leader in Boston Consulting Group.
Most of the guests are based in New York and many of them are aspiring college students. They came on a Friday night in hopes of gaining industry insights from the professionals. Shoo-in Career supports students to have professional guides from industry leaders. The Halloween party was an excellent opportunity for both sides to learn about each other..
"I enjoyed this fun Halloween Cocktail Party a lot," said an accounting student from Columbia University. "At the party, I had a glimpse of the inside industry, which is helpful for me regarding future recruitment." The Shoo-in Career team was delighted to host this fun event. The team is glad to see every guest leave with a smile.
About Shoo-in Career
SHOO-IN, LLC (SIL) is an educational service firm located in New York City. SIL is founded by a group of Wall Street bankers who left their positions in pursuit of enhancing young professionals for the financial industry. SIL specializes in providing employment strategy solutions for aspiring financial professionals throughout the United States. Shoo-in Career strive to connect job candidates with motivated, capable and accomplished mentors who recruit at top banks, accounting and consulting firms. An innovative online platform SIL developed makes the mentor selection and matching process quick and easy. Shoo-in Career also provide customized guidance tailored to client's' background and career plans to make sure that they get fully prepared for the challenging job market.