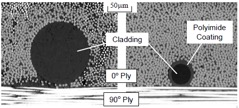 For some applications the smallest, thinnest, least intrusive Fiber Bragg Grating (FBG) sensors are the way to go!
Atlanta USA, Zurich Switzerland, and Beijing China (PRWEB) November 14, 2016
For many, advanced embedded-FBG sensing applications it has become necessary and critical that the sensing fibers have small dimension, light weight, and low bend sensitivity in order to allow easy embedding with minimal compromise on the strength of the host materials due to local stress concentrations. These fibers are much thinner than 125 microns. To meet the growing needs of thin FBG sensors for advancing SHM in composite materials and a variety of other applications, Technica has developed thin single-mode fiber-based FBG sensors (T60) for a wide range of optical specifications and coating requirements. Fabricated directly in bare fiber and coated with acrylate, polyimide, or metal, these sensors are ultra-small and durable for use in tight spaces with minimal intrusion. When metalized (most commonly with Au), these FBGs can be encapsulated into hermetically sealed devices as well. The small-diameter fibers containing these FBGs have correspondingly smaller core, higher NA and higher cut-off wavelengths to significantly reduce macro-bending sensitivity yet they work seamlessly with most optical sensing instruments worldwide.
Thin FBG sensors yield excellent wavelength to temperature and wavelength to strain linearity. Their small-size and fast response time make them useful and uniquely fitting for in- process control of advanced composites manufacturing and real-time monitoring of high performance vehicles for space, air, water and land. New applications are emerging in energy, medical, and robotic sectors.
More information is available in our recently published paper entitled Small-Diameter Thin FBGs Ideally Suited for Embedded Sensing in Composites is now available for free download on our website. Click here to view a product datasheet.
Technica is a leading developer, manufacturer, and provider of premium quality Fiber Bragg Grating sensors and FBG array sensors in acrylate, polyimide, and gold coated fibers. The company also proudly licenses and produces individual OEM custom packaged sensors. Technica is headquartered in Atlanta, USA with support locations in Zurich, Switzerland and Beijing, China.