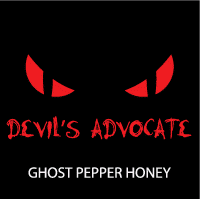 Health-Conscious, savvy foodies with time challenges will love Devil's Advocate Hot Honey. It's flavorful, spicy, easy to cook with and makes a great holiday gift.
Atlanta GA (PRWEB) November 11, 2016
Gourmet Specialty Food company Bee Wild announces the release of its newest honey, Devil's Advocate. Devil's Advocate is the first in a new line of infused raw gourmet honey called "Wild Side."
Devil's Advocate is raw honey infused with ghost peppers. Known as one of the world's hottest peppers, the ghost pepper is the perfect marriage with honey. Sweet, smoky, with a medium amount of heat, Devil's Advocate has received rave reviews in early customer tasting. Its sweet heat lends itself to a wide range of uses: as a fiery addition to BBQ sauce, as a glaze on meats, as a sweetener in tea giving it a spicy kick, drizzled on cream cheese or even ice cream, or in Mexican hot chocolate.
Bee Wild says Devil's Advocate is the first in a new line of "infused" honey called "Wild Side." This line infuses Bee Wild's award-winning raw honey with unusual flavors, catering to the modern consumer's demand for sophisticated, complex, new tastes. Wild Side is available in 12-ounce plastic squeeze bottles with Bee Wild's dripless "no mess" lid, as well as 3-ounce mini jars.
In the past couple of years, several "Hot Honeys" have garnered national attention. Bee Wild's founder, John Wright, says, "We're not the first hot honey. We just thought we could do it better."
Atlanta-based Bee Wild is the creation of John Wright, the youngest in a three-generation line of beekeepers. Bee Wild focuses not only on providing high-quality raw honey, but on providing a sustainable future for the bees, as well as for the "real food" community. Joining companies like Patagonia, Bee Wild partners with 1% for the Planet and donates 1% of its sales to environmental causes.
Contact:
John Wright
855-503-6489
john(at)beewild(dot)buzz