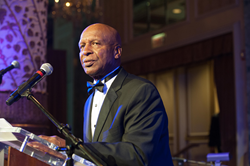 PALATINE, IL (PRWEB) November 11, 2016
Little City held its 2016 annual dinner, the "Legacies Gala," at the beautiful Drake Hotel in Chicago on Oct. 22, 2016 to benefit people with disabilities. The event drew over 350 attendees and raised over $500,000 for the organization.
The elegant event honored longtime Little City supporters Secretary of State Jesse White and Julie Bell, Executive Vice President of Global Marketing for Benefit Cosmetics, who also represented the Bell family. Julie Bell's sister has been a resident at Little City for 50 years. Both distinguished honorees inspired the crowd with heartfelt stories of appreciation for Little City's legacy of over 55 years of service.
The speeches were preceded by an emotional and rousing video introduced by Kelly Trupa, who passionately spoke about how Little City has become a true home for her son and a blessing for her family.
The highlight of the evening was the money raised for the construction of Mario's Home, scheduled to be the fourth home at Little City's Duffey Family Children's Village. Attendees were inspired by the safe, therapeutic and transformational home environments for children on the autism spectrum, and raised nearly $330,000.
"Tonight's wonderful celebration of Secretary White and Ms. Bell was a reminder of how giving and inspiring Little City's supporters have always been," said Shawn Jeffers, Little City Executive Director. "The money raised tonight will make a real difference for children with autism and give them the opportunity to reach their unique potential."
Attendees were also treated to an evening of fine dining and entertainment, including live music by the Carol Sarlas Orchestra. A silent and live auction bolstered the fund raising evening, with the silent auction comprised exclusively of works by Little City artists. The festivities were enhanced with a live streaming of the Chicago Cubs besting the L.A. Dodgers for the National League pennant.
Little City thanks their generous sponsors for making this event possible: Gold Sponsor: Friends of Kevin Desmond/The Folgelson Foundation; Silver Sponsors: Allstate, Julie Bell, Eleni & Jimmy Bousis, Jane & Cliff Hudis, Kaye Karch & Jerry Rubin, Robert Lozins, Paramount Staffing, George & Dimitra Zervas and Zurich, NA; Bronze Sponsors: Alliant/Mesirow Insurance Services, Linda Bell, Verne Carson & Burt Ury, Rit & Mehetab Faisal, John George Family, Gianaras Family, Jonathan Green Family, Hockfield/Rose Families and Motorola Solutions; Official Media Sponsor: Splash.
###
About The New Little City – A Vital and Vibrant Community
For more than 50 years, Little City has developed innovative and personalized programs to fully assist and empower children and adults with autism and other intellectual and developmental disabilities. With a commitment to attaining a greater quality of life for Illinois' most vulnerable citizens, Little City is A Great Big World that actively promotes choice, person-centered planning and a holistic approach to health and wellness.
Our mission is to be a leader in providing the best options and opportunities to live safely, learn continuously, explore creatively and work productively. To inspire, innovate, advocate and pursue success with passion and purpose, and to create hope, happiness and optimism for individuals with disabilities and their families.
For more information, visit http://www.littlecity.org