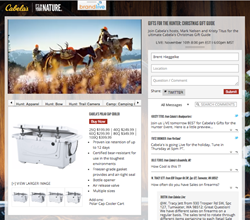 We've been successfully using live video for training, and are excited to share Cabela's expertise with our customers.
PORTLAND, OR (PRWEB) November 10, 2016
Cabela's, the Foremost Outfitter® of hunting, fishing and outdoor gear and Brandlive, the live video platform for brands and retailers, today announced the launch of http://www.Cabelas.live and the live video event "Gifts for the Hunter." The innovative retailer is committed to engaging their consumers directly with demonstration videos and the ability to ask questions and purchase products during an interactive live video experience powered by Brandlive where consumers can learn about the best hunting products and purchase directly during the online event.
"Cabelas.live is an exciting new initiative for Cabela's," said Ryan Watchorn, Chief Marketing and Strategy Officer for Cabela's. "We've been successfully using live video for training, and are excited to share Cabela's expertise with our customers. This first live video event will be a great opportunity for our customers to engage more with Cabela's while they're looking for the perfect product for the outdoors enthusiasts in their lives."
Cabela's has been using the Brandlive platform for training in retail stores, allowing vendors to do live training clinics for close to a year now - and are now extending live video events to their consumer audience.
The Brandlive platform has powered close to 5,000 events for brands and retailers over the past few years, and brings together the critical elements to enable an optimal interactive live experience: livestreaming at scale, rich merchandising and eCommerce, robust audience interaction and a complete event registration system.
In addition, this event represents an exciting new trend of retailers establishing their .live domain to feature live audience events. "Cabela's is getting it right by launching this experience on Cabelas.Live (http://www.cabelas.live) and we applaud their strategy," said Marc Gawith of .LIVE and evangelist for the Be.LIVE community. "It is smart to establish this digital real estate and be purposeful about using a memorable, descriptive domain to engage consumers with the live experiences they are increasingly demanding."
Who: Mark Nelsen for Cabela's and Kristy Titus, Ambassador for Cabela's
What: Cabela's Goes Live with "Gifts for the Hunter: Christmas Gift Guide
When: Thursday, November 10 - 5:00 p.m. - 6:00 p.m. PT
Where: http://www.Cabelas.live
About Brandlive, Inc.
Brandlive provides a multi-channel live video platform that includes audience interaction plus robust merchandising and e-commerce integration. Brandlive is used by top brands and retailers to conduct live interactive online product training, marketing and e-commerce events. The platform enables brands to connect their best product experts directly to global online audiences, who can then interact with those experts. Customers such as GoPro, Levi Strauss, adidas, REI, Pottery Barn, and Rockwell Tools use this solution to launch products, increase eCommerce sales, create innovative live marketing programs, and conduct more cost-effective training. Brandlive is based in Portland, Oregon, and can be found at http://www.yourbrandlive.com.