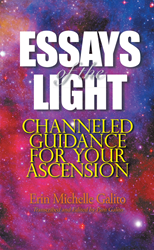 Gilbert, Ariz. (PRWEB) November 14, 2016
From transcribed material derived from trance-channeled conversations and direct dictation, Erin Michelle Galito presents "Essays of the Light." The book is for individuals who are searching for God, the true meaning of life, and a better world.
A trance channel and psychic medium, Galito connects with people beyond a basic emotional level. Her book serves as a guide for spirituality as a means to encourage human beings to think beyond their everyday mindset.
"I have had psychic experiences all my life, but didn't always understand it," said Galito. "In 2011, I began verbal trance channeling when the archangels made themselves known to me. I was told that I had made a contract with them before entering this life, and I am to dedicate myself to the awakening and Ascension of all people."
With her passion to connect with people, Galito has lead support groups and workshops in Arizona and Northern Virginia. Readers are encouraged to submit their questions to info(at)erinmichellegalito(dot)com, where she will select questions for channeled answers to be posted on her blog.
"Essays of the Light" provides messages guiding reader to release the self from the confusion of the ego consciousness in order to ascend into the Golden Age.
"Essays of the Light"
By Erin Michelle Galito
ISBN: 978-1-50436-323-5 (hardback); 978-1-50436-321-1 (softcover)
Available on Amazon, Barnes & Noble, and Balboa Press
About the author
Crystal adult Erin Michelle Galito is a trance channel for all of the Highest Order of the Light. She devotes her life entirely to the True and Joyous Will of God. At the urging of the Ascended Masters, Galito and her family moved to Arizona. Her mother, Pam Galito, assists wherever she is able. To learn more, please visit http://www.essaysofthelight.org.
Review Copies & Interview Requests:
LAVIDGE – Phoenix
Bryan Beach
480-998-2600 x 510
bbeach(at)lavidge(dot)com
General Inquiries
LAVIDGE – Phoenix
Kalin Batts
480-998-2600 x 524
kbatts(at)lavidge(dot)com