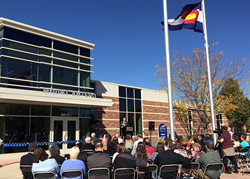 AP has completed all four phases of this ongoing project.
Fort Collins, Colorado (PRWEB) November 11, 2016
Adolfson & Peterson Construction (AP) recently joined with Front Range Community College (FRCC), OZ Architecture and FRCC students and staff to celebrate the grand opening of the LEED Silver Certified Mount Antero building, the main Welcome Center for the FRCC Larimer Campus in Fort Collins, Colorado. Along with 37,000-sf additions at the north and south wings of the existing building, AP also remodeled the center of the building and added a two-story atrium by opening up the roof.
The Mount Antero building houses Human Resources, Administration, College Leadership, Financial Aid, Office of the Registrar, Admission & Outreach, College Now, Advising, Career & Counseling, Student Success Center, Campus Security, Adjunct Faculty Touchdown Area, Online Learning, Learning Opportunity Center and the Cashier's Office. The enhancement to this campus symbolizes the growth of the college and the redevelopment of the campus, while responding to the needs of the students and improving their success.
Construction on these facilities were made on an active, occupied campus. Mount Antero was the fourth phase of a $28 million campus-wide construction and renovation project of adding classrooms, expanding student-oriented space, supporting the instructional needs of faculty and students and providing additional parking. AP has completed all four phases of this ongoing project and has touched multiple buildings including: Mount Antero, Blanca Peak, Maroon Peak, Little Bear Peak, Red Cloud Peak and the Southwest Parking Lot.
About Adolfson & Peterson Construction
Adolfson & Peterson Construction (AP) is a U.S.-based, privately held builder that is consistently ranked among the top 50 construction managers and general contractors in the nation. Headquartered in Minneapolis, Minnesota, the company delivers innovative and collaborative building solutions for clients across the country from its regional offices in Charlotte, Dallas, Denver, Minneapolis and Phoenix. Founded in 1946, AP serves clients in the education, healthcare, commercial, municipal, multifamily, hospitality and senior living market sectors. For more information, visit http://www.a-p.com or follow us on Facebook, LinkedIn and Twitter.