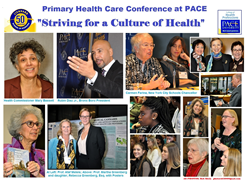 (PRWEB) November 09, 2016
Contact: Cara Cea, Pace University, office: 914-773-3312, cell: 914-906-9680, ccea(at)pace.edu
Pace University's Lienhard School of Nursing Hosts One Day Conference Featuring Leaders in Health Care
Pace University's Primary Health Care Conference: Striving for a "Culture of Health" brought together regional and national leaders and an audience of nurses, social workers, public health professionals, and educators on November 4 to address community health issues.
Mary Bassett, MD, MPH, Commissioner of the New York City Department of Health and Mental Hygiene, spoke about how we cannot have health equity unless we address racial and economic justice. "A black baby is three times more likely to die in the first year of life than a white baby here in New York City." She noted that health disparities have more to do with poor and segregated neighborhoods than with lifestyle choices. "Nobody picks substandard housing or wants to live somewhere without supermarkets." She spoke of the arc of history and the long legacy of Jim Crow, observing that segregated states resulted in worse outcomes for both black and whites. "Segregation hurts all of us – not just in the form of hurt feelings, but hurt that is written on people's bodies."
Ruben Diaz Jr., Bronx Borough President, spoke of progress that has been made to address health issues in the Bronx, but noted more can be done. Of the 62 counties in New York State, the Bronx is often in last place on health outcomes, despite being home to renowned health care institutions and a large number of health care workers. Diaz talked about the #NOT62 initiative to get healthier together as a borough. He cited small lifestyles changes that can have a big impact like taking the stairs, exercising at your desk, substituting healthier foods such as cauliflower for rice, and holding cooking demonstrations at supermarkets and in schools. Diaz talked about "food deserts," neighborhoods where residents have no easy access to nutritious food. He shared efforts to improve access to healthful foods by having salad bars in Bronx high schools and farmers' markets that accept SNAP/EBT (Electronic Benefit Transfer) cards and Farmers' Market Nutrition Program coupons. Diaz negotiated to have SNAP/EBT cards also accepted online for Fresh Direct orders and to have Fresh Direct deliver to all neighborhoods in the Bronx.
Michael Myers, Managing Director of The Rockefeller Foundation, spoke of blurring the lines between primary health care, prevention, medical care, public health, and health care. "These lines can be an impediment to creating a culture of health." He used the example of a community health worker in Liberia working five miles away from "Ebola ground zero" who noticed a cough among local children which turned out to be a pertussis outbreak. The community health worker notified the appropriate parties and the outbreak was contained. Myers also spoke of the direct relationship between human health and the health of our environment.
A panel of experts led by LSN alumna Lucia Alfano (who is Co-Chair for Tactical Support & Operations for the RWJ campaign on the Future of Nursing New York State Action Coalition) discussed a culture of health, focusing on education, housing, and the environment.  Panelists included Carmen Farina, New York City Schools Chancellor; Philip Landrigan, MD, MSc, FAAP, Dean for Global Health, Professor of Preventive Medicine, and Professor of Pediatrics, Icahn School of Medicine at Mt. Sinai; and Andrea Mata, Senior Manager for Community Health Initiatives, Office of Public Private Partnerships, New York City Housing Authority.
Carmen Farina spoke of engaging with the community to ensure school attendance. A lack of clean clothes, toothbrushes, and toothpaste, can prevent students from attending school. Toothbrushes and toothpaste are being distributed in schools. Some schools now have laundromats for families to wash their clothes. Food pantries have also been set up in schools to address the issue of hunger. Farina also talked about the importance of mental health initiatives, saying that though the city schools are committed to all aspects of health, one key priority is mental health. She stressed the importance of starting initiatives with parents of children as young as four years old.
Dr. Landrigan talked about factors that cause disease and those that promote health. In the 1970s, lead poisoning was nearly universal. Once scientific evidence showed dangers of lead, partnerships were formed among health professions and other groups and lead was removed from gas and paint. Now the focus is on childhood cancer and asthma from polluted air.
There were four afternoon roundtable discussions, focusing on the following topics: safety and violence against women (led by Dr. Afaf Ibrahim Meleis, Professor of Nursing and Sociology at the University of Pennsylvania School of Nursing), community coalitions for maternal/child health (led by Dr. Ruth Watson Lubic, nurse midwife), education (led by Michael Plotkin, Assistant Principal at Pierre Van Cortlandt Middle School), and community coalitions for elder care (led by Dr. Eileen Sullivan-Marx, Dean of the Rory College of Nursing at NYU).
Andrew Revkin, Pace University Senior Fellow for Environmental Understanding, provided the call to action, urging participants to apply the lessons of the day to their work moving forward. Revkin spoke of how a top down approach is important but insufficient. Rather than a "think outside the box" approach, he spoke of a "no box" approach, citing an example that the Rockefeller Foundation's Michael Myers had talked about.
"In Liberia, the 'silos of excellence' toppled like dominoes when Ebola struck," Revkin said. Pace University provides an example of how "no box learning" can be beneficial, so that we are always looking ahead and working between departments. Revkin spoke of a day when medical schools become health schools, when health and wellness are normalized and medicine is the last resort.
"I spoke with students who were inspired by the impact the speakers have had on the health of their communities," said College of Health Professions Dean Harriet R. Feldman, PhD, RN, FAAN. "By choosing a helping profession and opting to serve others, the students' actions every day will make a difference. By attending the conference, it is my hope that they will work toward building a culture of health in everything they do over the course of their careers."
The conference was a signature event of the 50th anniversary of the Lienhard School of Nursing in the College of Health Professions at Pace.