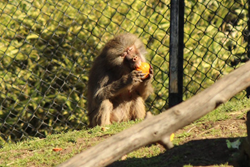 The donations provide a fun and healthy food source for our animals at Oakland Zoo
Oakland, CA (PRWEB) November 14, 2016
Zookeepers headed out in trucks the morning of November 1st to pick up hundreds of leftover pumpkins from local Halloween pumpkin patches for Oakland Zoo's animals to feast on. This annual happening becomes quite a treat for many animals at Oakland Zoo, due to the generous donations of Moore's Pumpkins in Castro Valley and Pick of the Patch Pumpkins in San Leandro every year.
"The pumpkin is amongst the favorite of treats for elephants," said Gina Kinzley, Lead Elephant Keeper. "If they can't fit a whole pumpkin directly into their mouths, they puncture it with their tusks or stomp it open with their foot. Most of these pumpkins would otherwise we thrown out or tilled back into the land. The donations provide a fun and healthy food source for our animals at Oakland Zoo."
Truckloads of large, medium, and mini pumpkins from local patches have been sorted and unloaded. Besides being added to many animal diets, zookeepers have creatively crafted the orange vegetables into enrichment items such as pumpkin kabobs, gourd bowls filled with meat treats, puzzle feeders, and even frozen delicacies. Zoo visitors are able to see animals feasting on the sweet treats daily now through the end of December.