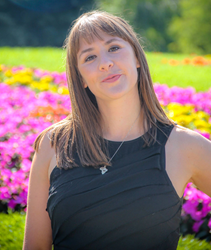 With the right work on their mindset, anyone can change their aligned action and therefore results with rapid speed!
London, England (PRWEB) November 15, 2016
November 15, 2016
Entrepreneur, Speaker and Coach Olivia Charlet Announces the Launch of Olivia Charlet International
Business and Mindset Coach Unleashes Women On Inspiring Path To Success
Mindset Coach and entrepreneur Olivia Charlet and author of Dare To Dream (Dec. 2016 expected pub date) helps women entrepreneurs unleash themselves, and make an impact around the world. Not only does she help them understand their own belief systems and behavior patterns, but also how to run a business that aligns with their core values so they can live life on their own terms.
"If you have a desire to make a major impact in the world but for some reason you feel stuck around how to create it then Olivia Charlet International offers the resources you need," says mentor and entrepreneur Olivia Charlet.
Women in Charlet's in-person events and coaching programs learn to create a powerful and impactful life by tapping into their own power and aligning their inner strengths. "Many women are unaware of these inner resources. But with the right work on their mindset, these women can change their behavior and therefore results with rapid speed," says Olivia.
Olivia Charlet gets results for women ready to launch or transform their business and increase their wealth and contribution in the world. Using her mind-set coaching formula, NLP, courses and events, Charlet helps women achieve the following:
Determine what holds them back from living a life they truly love.
Assess the limiting beliefs preventing them from making the money and impact they want.
Take aligned action that allows them to create their dream life on their own terms.
For additional information on Olivia Charlet's coaching and mentorship to maximize and fulfill your life and business potential, please see the complimentary 4-Part Video Masterclass on Olivia's website: http://www.oliviacharlet.com.
About Olivia Charlet International, based in London, England
Olivia Charlet International is a 100-percent online, woman-owned business offering personal development for women around the world. The company's mission is to help people recognize that their power lies within, and regardless of their background or upbringing, they have the potential to have a massive impact in the world. The vision of the company is to empower and inspire women around the world to build businesses and live lives freely on their own terms. Olivia Charlet, the company's founder, is author of Dare To Dream (2016 expected pub date), an international speaker (Thrive in San Francisco, Unleashed in Los Angeles, General Assembly and King's College in London) and an expert in Personal Performance Coaching, Neuro Linguistic Programming and Organizational Psychology.
Having an international upbringing (Tokyo, Dusseldorf, Johannesburg, Vienna, Hamburg, Boston, Auckland, and London), Olivia received a B.A in Business, and worked in finance in England. Olivia has a Master's in Psychology and Psychiatry, King's College, London and a Personal Performance Coaching Qualification, The Coaching Academy, London.