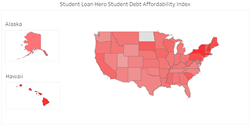 Since cost of living has such a high impact on affordability, borrowers must consider options like moving to another state to make student loan debt more affordable.
New York, NY (PRWEB) November 10, 2016
Leading financial education company Student Loan Hero released a new study that examines how easily student loan borrowers can afford their payments in each state.
The study examined average debt upon graduation, cost of living, and average annual wages for each state. The goal of the study was to determine the percentage of a typical graduate's monthly disposable income that would go towards student loan payments. Similar to caps set by federal income-driven repayment plans, 10 percent of disposable income was considered the benchmark for affordability.
According to the study, the top five worst states for student loan affordability are:
Hawaii (worst)
New York
New Hampshire
Connecticut
Rhode Island
See the full rankings, including the top five best states>>
"This study highlights how affording student loan payments can be difficult for borrowers no matter where they live," said Andrew Josuweit, CEO of Student Loan Hero. "Since cost of living has such a high impact on affordability, borrowers must consider options like moving to another state to make student loan debt more affordable."
Key Insights
--Nationally, student loan payments averaged 17.3 percent of disposable income.
--None of the states nor the District of Columbia met the affordability standard of 10 percent; the state with the most affordable student loan payments came close at 10.9% of disposable income.
--Borrowers in the state with the least affordable student loan debt (Hawaii) must allocate about 30 percent of disposable income towards payments.
--Student loan affordability correlated more closely with cost of living than wages.
Methodology
The Student Loan Affordability Study compared average annual earnings in each state* to local costs of living and average student loan balances to find the states where student loan repayment is most affordable.
Disposable income of an average worker was calculated in each state, based on the Bureau of Labor Statistics' reported mean wage in the state, less living expenses such as housing, transportation, food, and health care (based on national consumer data and adjusted for cost of living). This number was then compared to typical payments on the average student debt balance of a 2014 graduate in each state, based on a 10-year repayment term and assuming a 4% interest rate.
In line with federal standards for student loan affordability, student loan monthly payments equal to 10 percent or less of monthly disposable income were considered affordable.
*North Dakota was excluded due to insufficient data on student loan borrowing in the state.
About Student Loan Hero
Student Loan Hero combines easy-to-use tools with financial education to help the millions of Americans living with student loan debt manage and pay off their loans. Student Loan Hero has helped more than 100,000 borrowers manage and eliminate over $2 billion in student loan debt since 2012 and assists over 3.5 million people in becoming more financially healthy every year.
Student Loan Hero offers both current and former students free loan calculators, as well as unbiased, personalized advice and repayment plans through an easy-to-use online dashboard.
Founded in 2012 by CEO Andrew Josuweit, who himself had over $100,000 in student loans, Student Loan Hero operates on the belief that all loan help and recommendations should come with honesty and no hidden agenda.
For more information, visit https://studentloanhero.com/.