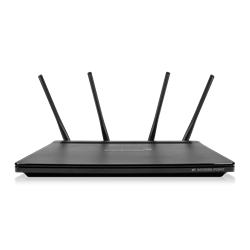 Chino Hills, CA (PRWEB) November 10, 2016
Amped Wireless, the leading manufacturer of high power, long range wireless solutions for the home and office, is now shipping the ATHENA-AP High Power AC2600 Wi-Fi Access Point with MU-MIMO. Now consumers and businesses will have an access point that can deliver immediate connectivity to multiple users at the same time without slowing downloads, streaming or browsing.
The ATHENA-AP features cutting edge MU-MIMO technology that enables multiple devices to receive data at once, granting uninterrupted streaming for all. This makes it ideal for homes that harbor multiple devices all reaching for the same Wi-Fi connection. Traditional access points stream data to just one device at a time, leaving the rest of the devices to wait their turn which results in slower downloads and video buffering. The new ATHENA-AP is able to stream high quality data at faster speeds to up to four devices at once, delivering quadrupled speeds for multiple devices.
The ATHENA-AP is designed to provide reliable, whole-home connections with four high gain antennas, 16 high power amplifiers, and a 1.3GHz Quad-Core Processor. With both a USB 2.0 and USB 3.0 port, the ATHENA-AP, High Power AC2600 Wi-Fi Access Point is equipped for high speed, local file sharing powered by Paragon Software and is built with four Gigabit wired ports to directly connect other devices like PCs and Smart TVs.
"With so many devices connecting to Wi-Fi in homes today, consumers need to upgrade their networks if they want to avoid Wi-Fi frustrations," said Lacey Limbrick, Brand & Marketing Manager at Amped Wireless. "The ATHENA-AP is an easy, plug-and-play way to upgrade your network to the latest Wi-Fi speeds and technology to support the increasing bandwidth demands of multi device households and businesses. It is also great for those homes that have modem/routers provided by their ISPs that are bogged down by outdated, slow, Wi-Fi technology. It's a quick and powerful upgrade."
The ATHENA-AP is available for order now at http://www.ampedwireless.com/products/apa2600m.html for $219.99. It will also be available at major online and brick and mortar retailers in the next few weeks.
About Amped Wireless
Amped Wireless is an award-winning provider of long-range, wireless consumer and business communication products for the home and office. Ranked 16th in the 2013 Inc. 500 and 1st in the Computer Hardware Industry, Amped Wireless' mission is to develop the highest quality, long-range wireless products through experience, passion, innovation and advanced technology that exceed customers' needs and expectations. For more information on Amped Wireless, The Leader in High Power Wireless Solutions™, please visit the Amped Wireless website at http://www.ampedwireless.com