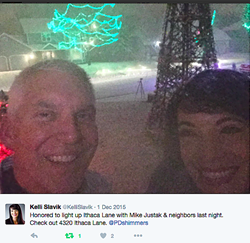 We shine one light for every American diagnosed with Parkinson's disease in 2016"
Plymouth, MN (PRWEB) November 22, 2016
How do you call attention to and raise awareness of a disease that slowly robs you of your ability to carry out normal everyday tasks? If you are Plymouth Minnesota resident Mike Justak, you haul out 60,000 lights on over 800 strings, synchronize the lights to a music track, create two web sites, and invite the Mayor over to "flip the switch." Justak calls this production PD Shimmers. " Shimmer is sort of a tongue in cheek reference to the tremors a person with Parkinson's exhibits," Justak noted.
Parkinson's Disease (PD) is an incurable, progressive movement disorder characterized by uncontrolled movement (tremor), extreme stiffness, rigidity, loss of balance, and depression. Notable Americans who contracted the disease include Michael J Fox, Muhammad Ali, Davis Phinney and Robin Williams. Once considered a disease of the aged, today nearly one in five are diagnosed prior to their 50th birthday.
Justak, now in his twelfth year in his battle with Parkinson's, was diagnosed when he was only 49. "When I began I took a lot of pride in the fact that I did everything myself. But the display is for everyone with Parkinson's to take pride in so now we have the "Shimmer Brigade" who assemble on the first Saturday of November to "assemble" the display." Professional voice-overs, signage and even video (which is displayed on a garage door) all call attention to Parkinson's Disease. hallmark of the show is the sequence that ramps all 60,000 lights to full on. " We shine one light for every American who was diagnosed with Parkinson's in 2016." Justak added.
Kelli Slavik, Mayor of Plymouth, will be on hand Monday November 28 to officiate opening night. PD Shimmers will run each night from November 28 to December 28 from 5PM to 10PM. If you can't get to Plymouth, you can watch the live streams on the web page pdshimmers.com