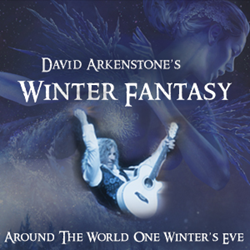 Arkenstone presents the beloved classics from around the world and his festive original songs in a whole new light.
Los Angeles, CA (PRWEB) November 11, 2016
Much to the delight of his fans, 3-time Grammy® nominee David Arkenstone is taking his musical holiday journey on the road this December! Announced yesterday via social media, Arkenstone says he is "thrilled to be going on the road again."
Often compared to Yanni and Mannheim Steamroller, David's music has long been synonymous with the holidays with his albums like Christmas Spirit, Celtic Christmas, and Christmas Lounge. His holiday tunes are traditional to many and are played by symphonies as well as accompanying intricate programmed light displays. In fact, the Winter Fantasy tour ends with Arkenstone guesting with the Grand Rapids Symphony Orchestra that's playing several of his holiday tunes with a special performance by Cirque de la Symphonie (which is featured in Arkenstone's current television special, David Arkenstone's Symphonic Adventure airing nationally on PBS stations).
"Winter Fantasy takes everyone 'Around The World One Winter's Eve'. The show is a magical evening of festive original and traditional holiday tunes for the whole family," says Arkenstone from his home overlooking the Pacific Ocean. "I love the snow. I love the winter, which is why I'm particularly excited that we are touring in the Midwest and northeast where we might actually have some snow! We're even performing in front of an amazing Snow Queen custom backdrop by artist Anna Steinbauer. It's a very special time of year and this is a wonderful way to share the season with family and friends."
The 15-city Winter Fantasy tour includes dates in Iowa, Wisconsin, Michigan, Ohio, New Hampshire, Vermont, New York, and Maine (see complete list below as well as here).
Joining performer/multi-instrumentalist Arkenstone is his band of versatile world musicians: Grammy®-winning flutist Susan Craig Winsberg; Wisconsin based recording artist and virtuoso pianist Kostia Efimov; fiery violinist Natasha Ratz; exceptional international percussionist David Leach; creative world music percussionist Joshua Amyx; and, accordionist extraordinaire Terri Conti.
With 50 albums in release in multiple genres, 20 Billboard hits, film & TV soundtracks and game scores, David Arkenstone is certainly one of the most prolific, diverse, and imaginative musical artists around. It's anyone's guess what adventure he will take listeners on next.
Currently in release on the Green Hill label is his new Winter Fantasy album with vocal diva Charlee Brooks.
Celebrate the season! Take the family Around The World One Winter's Eve with David Arkenstone's Winter Fantasy concert!
The 2016 Winter Fantasy Tour Dates, Cities & Venues (tour link):
Dec 6 Elkader, IA - Elkader Opera House
Dec 7 Cresco, IA - Cresco Opera House
Dec 8 Appleton, WI - Kimberly Clark Theater
Dec 9 Milwaukee, WI - Wheeler Auditorium
Dec 11 Vergennes, VT - Vergennes Opera House (sponsored in part by Shacksbury Cider)
Dec 13 Littleton, NH - Littleton Opera House
Dec 14 Biddeford, ME - Biddeford Little Theater
Dec 15 Dover Foxcroft, ME - The Center Theatre
Dec 16 Deer Isle/Stonington, ME - The Reach Performing Arts Center
Dec 17 Camden, ME - Camden Opera House
Dec 18 Clayton, NY - Clayton Opera House
Dec 20 Cleveland, OH - The Maltz Performing Arts Center
Dec 21 Youngstown, OH - Ford Recital Hall
Dec 22 & 23 Grand Rapids, MI - DeVos Performance Hall with the Grand Rapids Symphony Orchestra
Official Tour website: http://www.thewinterfantasy.com
Winter Fantasy promo on YouTube: https://youtu.be/ew7roAiZCzk
David's official website: http://www.DavidArkenstone.com
Follow David on Facebook and Twitter @davidarkenstone and Instagram #david.arkenstone
Released by Green Hill Music, the Winter Fantasy album is available on Amazon and iTunes.
(Download and CDs for press available upon request)
# # #
Media Contact / Bookings & Management:
Victoria Paige Meyerink
818.800.8770
victoria(at)meyerink(dot)com