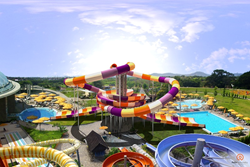 Take a "ride" on Polin's New Storm Racer Waterslide at IAAPA! Storm Racer VR Simulator will allow IAAPA visitors to experience a virtual-reality ride on Polin's innovative new family-raft waterslide - a ground-breaking, first-of-its-kind waterslide!
Kocaeli,Turkey (PRWEB) November 12, 2016
Polin Waterparks is pleased to announce the introduction of a new waterslide to guests of IAAPA that has never before been seen in the waterparks sector. Polin will be providing attendees at its booth - #1378 - with virtual-reality goggles so they can experience the revolutionary slide from the real-life perspective of a rider on the slide.
The new Storm Racer incorporates a variety of key features that set it apart from every previously designed waterslides in the industry: unique geometry, high capacity, a pioneering ride configuration and an exclusive, interactive "Watersplash" feature that ensures intense competition and blasts of adrenaline.
Take a "ride" on Polin's New Storm Racer Waterslide at IAAPA!
Storm Racer VR Simulator will allow IAAPA visitors to experience a virtual-reality ride on Polin's innovative new family-raft waterslide - a ground-breaking, first-of-its-kind waterslide!
Unique Benefits

A Unique Rider Experience. The slide's streamlined geometric path is unlike any other previously designed attraction. The result is an expertly engineered waterslide that takes guests by surprise from the start of the ride when they launch from an exceptional height: 24 meters (79 feet), nearly eight stories high. The ride extends along a slide path of 87 meters (285 feet) at a speed of 11 meters (36 feet/second), nearly 40 kilometers (25 miles/hour). The tunnel start of the slide features Polin's patented Natural Light Effects technology, and Polin's Slide 'n Roll feature is also available. Upon entering the slide, guests shoot through a closed tube that curves downward in a wide arc. They then are plunged into an open bowl configuration where they experience the strength of centrifugal force as they are propelled up a wide, sweeping, curved, vertical slope. Rafts rush toward the top of the slope and - just before they seemingly shoot over the edge - gravity safely pulls them backward in a reverse ride. The energy gained in this journey provides the force to propel them down and out of the bowl where their high-adrenaline journey is extended through another closed tube before ending in a splash pool or run-out. The engineering accomplishment of this slide - with a curved rather than classical slope on the uphill portion of the slide - is a major accomplishment within waterslide design and a concrete example of Polin's customer-oriented, flexible and efficient design and engineering understanding.
Attractively Interactive. As rafts shoot to the top of the slope, Polin Waterparks' exclusive Watersplash sensors detect the exact high point reached by the raft. The sensors are connected to a lighting system that displays results on a score board to create a competitive adrenaline rush for the riders. At each level, the lighting system showcases another color and, if the raft makes it to the top, the Watersplash feature activates and water splashes over the riders creating great fun and memories. Winners can be determined based on each hour of the day, day of the week or the entire season to ensure months of competition between teams.
A Competitive Family Experience. In the past, waterslide designers have created attractions that have allowed one individual to race against another individual or multiple individuals. The Storm Racer, however, allow families - or teams - to race one another together. The inducement to test different rider impacts on the raft's agility and speed will push competition to new extremes.
Central Tower. The Storm Racer employs a giant central tower from which the slide launches. The use of this type of tower provides multiple benefits. First, it promises unique spectator appeal with its tower looming above guests and becoming a central point around which a park can be designed. Second, it gives facilities options because the tower can accommodate both a single slide and two symmetrical slides.
High Capacity. Because this slide uses multiple family rafts running simultaneously, the number of guests it can accommodate is 8 x 120 riders per hour. This enables multiple guests to share the excitement on the riders' side. On the operator's side, parks gain the advantage of easier queue management.
Product Features:

Central start tower with a compact design (between the two raft entry points)
High-capacity (120 x 8 riders per hour)
A shared slide experience with others in the queue
Family-raft waterslide
Racing waterslide
Streamlined and iconic design
Water splash feature (with interactive lights)
Both single or racer options available
Theming possibilities
L-RTM-manufactured components (please see below for further information)
SPE, NLE and Slide 'n Roll options are available
Come and try the STORM RACER waterslide as a VR experience at Polin Waterparks booth (#1378) at IAAPA and don't forget to take your google cardboards virtual-reality goggles as a gift from Polin Waterparks!
More on Polin Waterparks
Polin was founded in Istanbul in 1976 and has since grown into a leading company in the waterparks industry. Today Polin is a world leader in the design, production and installation of waterparks, waterslides &and water-play attractions. Polin has completed 2,500 waterpark projects in 100 countries around the world and is the biggest waterslide supplier in Eurasia. Working with a wide variety of clients has helped Polin reach several milestones including installing the first waterparks in many countries and many other award-winning rides at parks with world-renowned reputations.
Polin offers the industry's widest range of products, including signature rides such as the patented King Cobra, Magic Sphere, Spheres, Magicone, Space Shuttle and Space Race. Polin is the pioneer in the advancement and application of closed-molded manufacturing technology in waterslide development. First implemented in 2006, 100 percent of Polin's annual fiberglass production has been converted to resin transfer molding (RTM) and meets the industry's highest standards. Polin offers both bowl rides and family rides featuring RTM techniques. Polin also offers its unique and patented Natural Light Effects technology and Special Pattern Effects technology in RTM and translucent-RTM waterslides.
Polin has been an ISO9001 certificate holder by TUV Germany since 2003, and all Polin slides conform to European norms. All steel parts conform to international DIN standards, all designs conform to ASTM practices, and Polin is also CSEI-approved for projects in China. Polin is the only waterslide company that holds a quality certificate for all of its waterslides by TUV and was the 2012 Export Winner of Turkey in the SMSE Category. Polin is identified as among The Turkey100, a prestigious list of "game-changing entrepreneurs" identified by AllWorld Network. This is the second time that Polin has been privileged with an appearance on the list, as one of the 100 fastest growing companies in Turkey. It was included for the first time in 2013. In total, only 16 companies have received the honor more than once. Polin is listed in top 200 companies in R&D investment by TIM (Turkish Exporters' Assembly)-2015 and 10 SMCS in holding world wide patents by TPI (Turkish Patent Institute)-2015. Polin is selected as WINNER company in the exports in Machinery and Equipment category by TIM (Turkish Exporters' Assembly)-2015.
Polin oversees a high-capacity design-and-manufacturing facility in Turkey with a team that totals 350 people with five offices throughout the world.
Polin is committed to providing the best-quality products and services by investing in continuous research and development. The company plans to further expand its L-RTM line while introducing new signature rides and innovations.
Please visit Polin at http://www.polin.com.tr for product information, news, events and other updates.