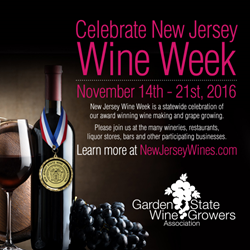 Cream Ridge, NJ (PRWEB) November 10, 2016
The fastest growing segment of New Jersey agriculture will be celebrated when New Jersey Wine Week, a statewide celebration of Garden State wine making and grape growing is commemorated Nov. 14-21, 2016. New Jersey's wine industry now features over 50 licensed wineries located from Sussex County to Cape May. New Jersey Wine Week, a joint promotional effort between the NJ Department of Agriculture and the Garden State Wine Growers Association (GSWGA) is designed to raise awareness and appreciation of the state's wine industry.
New Jersey Wine Week kicks off with the Vintage North Jersey "More Than Just Wine" Wine Trail Weekend Nov. 12-13 at nine participating wineries in the northern part of the state. Activities include Four Sisters Winery in Belvidere, partnering with nearby Mackey's Orchard & Bakery to offer their apple and other fruit pies with their wines. Terhune Orchards in Princeton will be pairing wines with delicious treats from local gourmet food purveyors, including Carol's Creative Chocolatez, a local artisan chocolate maker specializing in high quality single-origin chocolates and Fulper Family Farmstead on site to share their farm fresh cheeses which pair perfectly with Terhune wines. At Villa Milagro Vineyards in Finesville, guests will be able to sample "Gracias" Villa Milagro's refreshing and balanced white wine for Thanksgiving and "Feliz Navidad" their spiced Christmas wine. Appetizers from nearby local restaurants and a photo gallery display, "a year in the life of a vineyard" by local artist Ed Norman will be featured. Unionville Vineyards in Ringoes will be serving tastings of Rustic Wild Mushroom and Roasted Fall Squash soups by Matt's Red Rooster of Flemington.
The GSWGA will also be participating in The Chocolate Expo at the New Jersey Exposition Center in Edison, NJ on Sunday from 10 am – 7 pm. The Chocolate Expo features tastings & sales of chocolates, baked goods, specialty foods, wines and cheese, along with entertainment and demonstrations. GSWGA winery members DiMatteo Vineyards, Laurita Winery, Valenzano Winery and Villari Vineyards will be on hand.
On Monday, November 14, the GSWGA will team with the Algonquin Arts Theatre for their fundraiser Forks, Corks and Hops at The Mill, in Spring Lake Heights, NJ from 6-9 pm. The GSWGA and Whole Foods Market will present a Wine and Cheese Pairing Event with a selection of award-winning NJ Wines paired with Whole Foods Market's delicious cheeses from around the world. It will be hosted by Tom Cosentino, Executive Director, of the Garden State Wine Growers Association.
Other New Jersey Wine Week highlights include: NJ Department of Agriculture Secretary Doug Fisher as a guest on the GSWGA's NJ Winedown Show on November 16 at 6 pm on 1450 WCTC radio, streaming live on http://www.wctcam.com. The Secretary will discuss the growth of the NJ wine industry and the role it plays in agriculture in the state.
4 JG's Winery in Colts Neck will present "A Match Made in Heaven" November 19-20 featuring their award-winning estate wines paired with locally made chocolates. Laurita Winery in New Egypt will feature a Cheese 101 presentation on November 16 with Steve Catania from The Cheese Cave.
Throughout Wine Week, Alba Vineyard in Finesville will be partnering with a number of notable restaurants to showcase their wines, by the glass and through special Chefs pairings. Restaurants include: Bernards Inn (Bernardsville), Osteria Morini (Bernardsville), Due Mari (New Brunswick), Restaurant Latour (Hamburg), Crystal Springs (Hamburg, Morris Tap & Table (Randolph),Harvest Restaurant Group (Somerset & Morris Counties), Ryland Inn (Whitehouse Station) for a special Farm to Table Dinner Nov. 20th and a Holiday Open House Chefs wine pairing at the winery Nov. 25-27th with Landmark Hospitality.
On November 17, Unionville Vineyards is holding a 'Tap Takeover' of all of the taps at Nektar Wine Bar in New Hope, PA, putting 6 reds and 6 whites on tap at New Hope's premier wine & whiskey bar. Sharrott Winery in Hammonton will celebrate New Jersey Wine Week on November 19-20 by offering a special tasting experience featuring their very limited edition Syrah, plus the new release of Petit Verdot 2013.
Renault Winery, the oldest vineyard in NJ and second oldest in the nation, will be featuring seven different wines in seven days November 14, 2016 – 7:00 pm to Monday, November 21 at 10 pm in Joseph's Restaurant. The menu will feature wines from seven local wineries in addition to Renault wines. Wineries participating are Tomasello Winery, Bellview Winery, Amalthea Cellars Winery, Plagido's Winery, Sharrott Winery and DiMatteo Vineyards.
The full list of Wine Week events statewide can be found at http://www.newjerseywines.com/wine-week
With almost 2,000 acres of New Jersey farmland dedicated to grapevine cultivation, and the state annually ranking in the top 15 in wine production, the Garden State has made its mark in the wine industry. From just a dozen producers 15 years ago, the Garden State now boasts over 50 licensed producers.