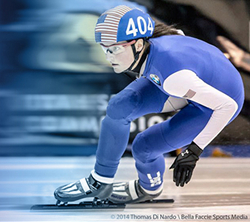 Brick, NJ (PRWEB) November 12, 2016
When they were introduced to Kimi Goetz, a local aspiring Olympian, they immediately related to her dream of traveling to the 2018 Winter Olympics in South Korea as part of the United States Team.
"Kimi Goetz made quite an impression on us," states Robert Shore, President and CEO of Heim Electronics. "Her drive, her passion, and her commitment inspired us to join in and make her Olympic dreams come true." Kimi recently made the move to Salt Lake City as part of her training efforts and Heim has demonstrated their support with a financial donation. The company is also encouraging everyone in the community to learn more about Kimi's quest, make a donation, and become a part of this exciting journey.
At age seven, Kimi Goetz started skating at the Frenchtown Roller Rink and went as far as she could go on wheels, before switching to skates. She excelled at Short Track Speed Skating when she graduated from Hunterdon Central Regional High in 2012, before moving to Utah to train full-time at Utah Olympic Park, nationally recognized as the premier training facility for high-performing athletes. "I'm a Short Track Speed Skater currently ranked number one in the country," explains Kimi Goetz. "I've represented the United States and New Jersey at the World Championships for the last 3 years. My ultimate goal is to make the 2018 US Winter Olympic Team and compete in PyeongChang, but speed skating is a self-funded sport, with high costs for training, equipment and living expenses." Kimi is extremely grateful for Heim's financial and emotional support. The company is recognized for its efforts in providing people in local communities with support and peace of mind, something they're also doing for Kimi.
"Heim truly cares about the people whose lives, homes and property we protect, and think of them as part of our Heim family, because it's in our DNA," states Dawn Strassheim-Cicardo of Heim Electronics. "We're here for them, whenever they need us. Recent or long-time customer; small home or large business; simple security system or top-to-bottom, new construction solution; everyone is important to us, because everyone is family." That's why supporting Kimi Goetz has come naturally to Heim. When they became aware of her dream they jumped at the opportunity to help. In much the same way the Heim team uses their industry knowledge, experience, skill and technology to tailor solutions specifically to support the needs of each and every customer. It's what they do and it's what people have come to rely on every day, because nobody cares like "Heim Cares."
# # # #
About Heim Electronics
William Strassheim Sr. founded Heim Electronics in 1976 based on the principle of providing quality security systems with dependable, personalized service while utilizing the latest technology. His vision was to move forward, adapt to change in the industry while maintaining the highest level of customer service. More than 40 years later, Heim Electronics continues to be a leader in the security and safety industry and one of its most respected companies, offering the latest advances in custom-designed security systems, commercial fire systems, and home automation and surveillance systems.
In 2014, Heim Electronics partnered with the Systems Design Group (SDG) family of security and life safety systems companies. For more than 30 years, SDG has earned a reputation for trust and reliability in the design, installation and servicing of countless life safety systems, from residential single point home security and fire systems to complex corporate installations. Heim Electronics looks forward to utilizing their expanded resources, capabilities, services, and 70 years of combined expertise to provide the highest level of quality service; something that has always been synonymous with the Heim name.
For more information about Heim Electronics, please contact:
Dawn Strassheim-Cicardo
Heim Electronics
T: 800-564-HEIM
E: dstrassheim(at)heimelectronics.com
W: http://www.heimelectronics.com
For more information about Speed Skater Kimi Goetz, please visit:
kimberlygoetz.com