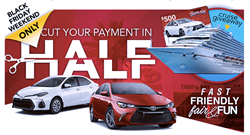 The main thing that we didn't want to do was to build the cost of the cruise into the lease or purchase price, that's not what we're about...We just wanted them to stop by. We really do believe in a 'Fast, Friendly, Fair & Fun' experience
Tampa Bay, FL (PRWEB) November 14, 2016
Morgan Automotive Group recently announced plans to offer 4-day/3-night luxury cruises for 2 at Toyota of Tampa Bay on Black Friday. The dealership located at 1101 E Fletcher Ave in Tampa, FL will officially open at 8:30 am to kick-off the holiday shopping weekend.
The dealership will have up to 35 promotional cruise certificates on hand and will be distributing them on a first-come, first-serve basis. In order to qualify for the 4-day/3-night luxury cruise for 2, customers are required to be among the first 35 to take a test-drive and receive a personalized quote from a designated sales professional. They are not, however, required to purchase or lease in order to receive the promotional gift.
"Customers have so many choices on where to go during Black Friday, with this promotion we want to give them an incentive to come here first. The main thing that we didn't want to do was to trick people and build the price of the cruise into the lease or purchase price, that's not what we're about," said Dan Sills, General Sales Manager on the decision to make the cruise a no purchase necessary promotion.
"We just wanted them to stop by and see just how great our staff is. We really do believe in a 'Fast, Friendly, Fair & Fun' experience, and why not, you might just take home a cruise!" he added.
Although Toyota of Tampa Bay is limiting the luxury cruise prize packages to November 25th, they will be including $500 gift cards with new Toyota leases and purchases throughout the entire weekend. The dealership is also planning to aggressively price three 2017 models from $79 per month to increase foot traffic.
About Morgan Automotive Group
The story of Morgan Auto Group starts out with Larry Morgan acquiring a Clearwater-based retail tire business in 1991. Over the years, the vision has gotten bigger, and today Larry Morgan and his son, Brett Morgan, own and operate the entire auto group. In 2008, Toyota and Time magazine recognized Larry Morgan for his success in sales, customer service, and charitable work in the community, and Tampa Bay CEO Magazine called him one of the Top 100 Most Influential Business Leaders in Tampa bay in 2009.
Today Morgan Automotive Group is comprised of 19 auto dealerships throughout the Tampa Bay area as well as Sarasota, Ocala, Gainesville, Lake City and Columbia, Missouri. Over the past 13 years, founders Larry and Brett Morgan have built a successful family of car dealerships through hard work, dedication, and a commitment to quality people.