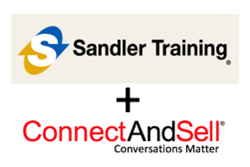 Partnering with ConnectAndSell allows Sandler franchisees and their clients to take maximum advantage of their sales skills, accelerating their professional development while producing immediate business results.
Owings Mills, Maryland (PRWEB) November 10, 2016
David H. Mattson, CEO of Sandler Training, announces a multi-year partnership with ConnectAndSell to market a joint offering that combines Sandler's world-renowned sales training and coaching programs with ConnectAndSell's one-of-a-kind advanced sales-acceleration solution. Sandler Training has more than 250 training centers across the globe, which are now reselling ConnectAndSell's services as part of their mission to make entrepreneurs and salespeople successful.
Sandler's award-winning training portfolio is comprised of sales development programs in enterprise selling, leadership, and customer service, along with the first measurable, skills-based sales certification program in the industry, Sandler Certification. ConnectAndSell's patented platform navigates gatekeepers, phone trees, interactive voice response systems, and voicemail pickups to connect salespeople to decision makers with unparalleled efficiency. ConnectAndSell enables a salesperson to have 50 or more live conversations per day with hard-to-reach decision makers, typically providing a 6 – 8x increase compared to other dialing. Sandler training and coaching ensures those salespeople have the techniques and attitude needed to make the most of each of those conversations. The combined offering provides a level of speed and skill that virtually guarantees a competitive advantage to companies that adopt this breakthrough solution.
Headquartered in Owings Mills, Maryland, Sandler Training's global training network, comprised of over 250 local training centers in major US cities and 27 countries, offers training materials that have been translated into 20 languages, allowing this best-in-class training and coaching company to support entrepreneurs and enterprises almost anywhere in the world. Sandler has been recognized as the "#1 Sales Training Company" and has been featured among the "Top 20 Sales Training Companies" in the US by TrainingIndustry.com for six consecutive years.
Commenting on Sandler's long-established standard for sales behaviors, techniques, and attitudes for making sales people successful, Mattson said, "Salespeople and sales managers are made, not born. Sandler provides the framework of best practices to help individuals succeed more quickly and avoid decades of trial and error. Sandler is a GPS for success. Partnering with ConnectAndSell allows Sandler trainers and their clients to take maximum advantage of their sales skills, accelerating their professional development while producing immediate business results."
ConnectAndSell, a Silicon Valley–based corporation established in 2007, has developed the world's only patented sales-acceleration technology. They have been recognized by Forbes Magazine as one of the "10 Innovative Companies to Watch" in 2016 and by Inc. Magazine's online publication in its list of "18 Tech Companies to Get Excited About" (March 31, 2016). ConnectAndSell has made more than 70 million dials and delivered over three million conversations to more than 1,000 B2B customers, ranging from aggressive startups to the most established enterprises.
Chris Beall, ConnectAndSell's CEO, commented, "At ConnectAndSell, we believe that conversations matter. Our flagship product, Lightning™, lets salespeople effortlessly connect with their targeted decision makers in minutes. Combining our radical improvement in sales velocity with Sandler's world-beating training and coaching services provides our mutual clients with an unbeatable combination of speed and skill to power their business to the next level."
For more information about Sandler Training, visit https://www.sandler.com/connect-and-sell or call 410-753-8159. To contact ConnectAndSell, call 888-240-7737 or visit connectandsell.com.