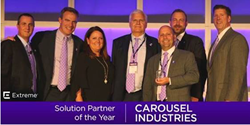 "At Extreme, we value our partners' hard work and dedication, and Carousel has gone above and beyond to ensure successful implementations for a growing number of mutual customers," said John Brams, Director, Sports & Entertainment, Hospitality, Extreme.
Exeter, RI (PRWEB) November 10, 2016
Carousel Industries, a leader in communication and network technologies, professional and managed services and cloud solutions, today announced it has recently received the 'Top Solution Selling Provider of the Year' Award in the United States and Canada category from Extreme Networks, Inc. during its Global Partner Summit in Orlando, FL. Carousel earned the award by successfully partnering with Extreme to apply innovative technology solutions, and by achieving key measurable business outcomes for a growing number of Extreme's customers in key industries, including higher education, hospitality, and government.
One year ago, Carousel received Extreme's Top National Year-over-Year Growth Award after recording the highest year-over-year growth among Extreme's national partners and tripling its revenue with Extreme in 2015. This year, Carousel received an award in recognition of its ability to consistently partner with Extreme to implement and deploy integrated connectivity and analytics solutions to solve specific business problems for enterprise customers.
"The Carousel-Extreme Networks partnership continues to grow and flourish, and I am incredibly proud of all of our hardworking employees who are going the extra mile to meet and exceed expectations of both Extreme and their customers," said Jim Marsh, Chief Revenue Officer, Carousel Industries. "In enterprise environments, customers demand truly integrated solutions, not point products. This award is very gratifying and signifies the value that Extreme places on our ability to collaborate and help them deliver flexible, innovative and highly reliable network optimization and analytics solutions."
"We're proud to recognize Carousel Industries with the Top Solution Selling Provider of the Year Award in response to their ongoing commitment to serving as an invaluable partner to Extreme Networks," said John Brams, Director of Sports & Entertainment, Hospitality, Extreme Networks. "At Extreme, we value our partners' hard work and dedication, and Carousel has gone above and beyond to ensure successful implementations for a growing number of mutual customers."
Partnering for Success
During 2016 Carousel has continued to deliver business value through large-scale, comprehensive integration projects at new and existing customer engagements using Extreme solutions.
In June, Carousel and Extreme completed a pervasive and secure high-density Wi-Fi implementation at the First Niagara Center in Buffalo, home of the NHL's Buffalo Sabres. The companies were tasked with implementing an arena-wide Wi-Fi solution capable of meeting the specific operational requirements that would deliver reliable mobile connectivity for stadium operations as well as an interactive experience for fans. The Sabres deployed Extreme's full connectivity and analytics solutions, which included 450 ExtremeWireless™ access points and wireless controllers, ExtremeManagement™, ExtremeControl™, and ExtremeAnalytics™. These solutions enhance Wi-Fi connectivity, improve game day operations and support mobile services, such as ticketing and concessions. Carousel provided its large-scale sports facility project management, implementation and integration expertise, as well as ongoing on-site support at the arena. 
Carousel has continued to deliver powerful wireless connectivity to Buffalo's New Era Stadium, home of the NFL's Buffalo Bills. Using Extreme's wired and wireless solutions which offer superior visibility and control, Carousel has successfully delivered free, uninterrupted connectivity to the arena's 71,000+ fans. The companies partnered to dramatically improve the fan experience at the venue.
At Oral Roberts University, Carousel collaborated with Extreme to finalize a massive, multi-phase project to deliver wireless connectivity across the school's 263-acre campus, linking the university infrastructure with students located across the globe. This project is a cornerstone of ORU's ambitious vision of creating a "One Campus" Global Education Network for distance learning. Completed this fall, this implementation enables students to experience the full breadth of a physical campus anywhere in the world via trailblazing technologies such as augmented and virtual reality, telepresence robots and wearable technology.
About Carousel
Carousel Industries is a recognized leader in helping organizations evolve the way they communicate and orchestrate the flow of information throughout their networks. Carousel enables clients to connect and collaborate the way modern IT users demand and advance from their current network infrastructure to meet tomorrow's standards. With deep expertise across a vast portfolio of communication, network, and security technologies, Carousel is able to design, implement, and support solutions tailored to meet the unique needs of each customer. By offering professional and managed services with flexible deployments in the cloud, Carousel ensures clients achieve agility and utilize technologies in the way most effective for their business.
Founded in 1992, Carousel serves more than 6,000 customers, including 35 of the Fortune 100. Carousel has been recognized by multiple publications and industry consortiums as a top technology integrator, managed services and cloud solution provider – including the Inc. 500/5000, Healthcare Informatics 100, and CRN MSP Elite 150. Headquartered in Exeter, RI, Carousel has more than 1,400 employees based in 27 offices - with three Network Operating Centers nationwide.