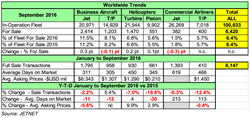 Business jets and turbine helicopters showed the largest increases in Percentage For Sale compared to the other markets.
Utica, NY (PRWEB) November 10, 2016
JETNET LLC, the leading provider of corporate aviation information, has released September 2016 and the first nine months of 2016 results for the pre-owned business jet, business turboprop, helicopter, and commercial airliner markets.
Market Summary
Key worldwide trends across all aircraft market segments, comparing September 2016 to September 2015, were analyzed. "Fleet For Sale" percentages for all market sectors were mixed in the September comparisons. Business jets and turbine helicopters showed the largest increases in Percentage For Sale compared to the other markets. Generally, inventories of pre-owned business jets for sale have increased and are now above the 2,400 mark.
Business jets are showing a decline (2.2%) in pre-owned sale transactions in the first nine months of 2016 compared to the same period in 2015. The first quarter and second quarter were up 4.4% and 1.9% respectively. Also, business jets are taking less time to sell (11 days) than last year. However, there was a 5.6% decrease in average asking price. Business turboprops increased 5.4% in sale transactions, with no change in asking price.
Piston helicopters saw a double-digit decline in sale transactions YTD, at 19.6%. Also, turbine helicopters recorded a 7% decline in sale transactions. Both turbine (up 9.9%) and piston (up 2.9%) helicopter segments showed increasing asking prices compared to last year.
Commercial airliners were also analyzed, and include the numbers for sale for both commercial jets (including airliners converted to VIP) and commercial turboprops. Commercial jet YTD sale transactions, at 1,393, are trailing business jets, at almost 1,800 sale transactions. However, Pre-owned Business Jet and Pre-owned Commercial Jet market sectors have surpassed the 1,000 mark for YTD sale transactions, as opposed to other market segments.
For the first nine months of 2016, there were 6,147 pre-owned commercial and business jets, turboprops, and helicopters sold. This is an increase of 99, or 2%, more sale transactions compared to 2015.
U.S. GDP
Real gross domestic product—the value of the production of goods and services in the United States, adjusted for price changes—increased at an annual rate of 2.9% in the third quarter of 2016, according to the "advance" estimate released by the Bureau of Economic Analysis. In the second quarter, real GDP increased 1.4%.
The BEA report of U.S. Gross Domestic Product (GDP) shows that it has been on a steady course of improvement this year, with the first quarter low followed by a climb in the second quarter, leading to another improvement in the third quarter. Business aviation does well when the U.S. GDP percentage is above the 3.0% growth mark. The last quarters that were 3.0% or greater were in 2014.
Business aviation could certainly use another rise in the fourth quarter—above the 3.0% mark—to close out 2016 on a high note.
Since 1988, JETNET has delivered the most comprehensive and reliable business aircraft research to its exclusive clientele of aviation professionals worldwide. JETNET is the ultimate source for information and intelligence on the worldwide business, commercial, and helicopter aircraft fleet and marketplace, comprised of some 100,000 air frames. Headquartered in its state-of-the-art facility in Utica, NY, JETNET offers comprehensive user-friendly aircraft data via real-time internet access or regular updates.