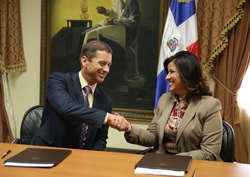 The Dominican Republic is demonstrating exemplary commitment to technology in education
SALT LAKE CITY, Utah (PRWEB) November 10, 2016
Certiport (http://www.certiport.com), a Pearson VUE business, the leading test delivery solution provider for the global workforce and academic markets, today announces they have partnered with Microsoft to sign a Memorandum of Understanding to deliver Microsoft Office Specialist certification training to students and teachers in the Dominican Republic. The initiative has unprecedented scope and will help students and teachers compete in a global workforce by validating in-demand digital literacy skills.
The MOU was signed between Dominican Republic Vice President Margarita Cedeño, representatives from Microsoft, Certiport and Certiport's partner in the country ETC Iberoamerica.
"With this partnership we will validate the digital capacities of our people," said VP Cedeño. "We have an unshakable commitment to helping individuals earn technical competency to compete in a global market and we look forward to working with Microsoft and Certiport to build a training platform to reach that goal."
As part of the visit, Certiport awarded Margarita Cedeño with the Global Champion of Digital Literacy award for her efforts in the Dominican Republic.
"We look forward to working together with Microsoft and Vice President Cedeño to help all students improve their basic technology skills," said Aaron Osmond, general manager, Certiport, a Pearson VUE business. "The Dominican Republic is demonstrating exemplary commitment to technology in education with this initiative and we look forward to seeing how their efforts transform the way teacher and students perform on a global stage."
About Certiport
Certiport, a Pearson VUE business, is the leading provider of certification exam development, delivery and program management services delivered through an expansive network of over 14,000 Certiport Authorized Testing Centers worldwide. Certiport manages a sophisticated portfolio of leading certification programs including: the official Microsoft Office Specialist certification program, the Microsoft Technology Associate certification program, the Microsoft Certified Educator program, the Adobe® Certified Associate certification program, the Autodesk Certified User and Autodesk Certified Professional certification programs, the Intuit QuickBooks Certified User certification program, and the IC3 Digital Literacy certification. Certiport reliably delivers over three million tests each year throughout the secondary, post-secondary, workforce, and corporate technology markets in 148 countries and 26 languages worldwide. For more information, please visit http://www.certiport.com or follow Certiport on Twitter at http://www.twitter.com/certiport.
"Certiport" and "IC3" are registered trademarks of NCS Pearson, Inc. in the United States and other countries. The names of actual companies and products mentioned herein may be the trademarks of their respective owners.