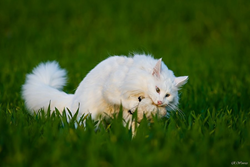 Valerian toys help to keep cats active and relaxed
London, UK (PRWEB UK) 11 November 2016
In the latest Katzenworld guide the famous online magazine looks at the effect of Valerian on Felines
Many cat guardians always wonder why cats get so excited over Valerian toys and of course the next natural question is whether it is good or harmful to play with these pungent toys.
Many online articles offer different views of the valerian root (valeriana officinalis) and the effect of it on cats. Essentially the bottom line is that these toys are safe but just like catnip toys that can induce ecstatic play behaviour should only be used under supervision.
So how does valerian impact feline companions?
Most cats will cuddle up with the Valerian filled toys, lick them and play passionately with them! You can often see how they rub themselves all over the toys! Some will roll around on the floor and others will chase, kick or chew on the toy.
How does it work?
The Valerian root contains Actinidine which is also known as a cat attract pheromone that is found in Valerian, Catnip and a few other plants. Cats and other Felines are attracted to this pheromone.
How long does it work?
This depends on each individual cat and varies from 5 – 20 minutes. Once this phase has passed the cat will enter the so called refractory phase for at least 30 – 120 minutes during which time it won't react to the fragrant material contained in Valerian toys.
How was it discovered?
Valerian was discovered as a stimulant for cats long before the general populus started using it for house cats. Wild Felines have been captivated by so called "cat herbs" for centuries and scientists have been using Valerian as a lure to study small and large felines in the wild.
What are the benefits?
While the cat is attracted by the Valerian it can help them to relax during stressful situations such as shows, firework season and other events that are not part of their general routine. Most cats either get ecstatic and power themselves out or calm down and relax while "enjoying a timeout" with Valerian toys.
Valerian also often gets used in sprays and air diffuser to induce a calming effects on cats and other animals which is different to the impact of catnip. It leaves most cats calm and relaxed after use of the toys hence why there is a lasting effect.
Where can consumers find these toys?
Katzenworld is working hard on educating pet shops in the UK to stock Valerian toys from 4Cats and are also available in the Katzenworld Online Shop.
About Katzenworld:
Katzenworld is an online cat magazine working on providing cat owners and cat lovers with their number one source for:
Insight on cat care
Top cat events
Cat Cafes
Cat products