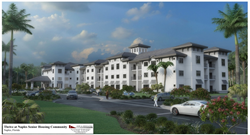 ESTERO, FL (PRWEB) November 14, 2016
Estero, FL-based Fortress Ventures announced this week it is developing Thrive at Naples, a new innovative Senior Living Community in Naples, Florida. Atlanta-based Thrive Senior Living will operate the new community.
Thrive at Naples will provide a unique and innovative approach to senior living. Focusing on resident engagement through connectivity in a resort-quality environment, Thrive at Naples will use a blend of technology, highly trained care teams and southern hospitality to create senior living experience like you've never seen before.
Thrive at Naples will feature all of the amenities expected of today's senior living communities and also feature unexpected twists and one-of-a-kind offerings. The Wellness Center will feature advanced pneumatic fitness equipment designed for seniors, which have large touch- screen controls, and easy access for those with limited mobility. In addition, the Wellness Center will have a barre for balance and isometric strength training. Residents will be able to enjoy a relaxing lap in the pool, or work up a sweat in a water aerobics class.
The 197-unit community will encourage residents to explore new endeavors as well as enjoy favorite pastimes. Social events will include evening matinees in the large movie theatre or afternoon happy hour out on the 2nd floor patio. Painting classes will be taught in the art studio and studies and educational events will be held in the Gathering place. The fully equipped salon will include massage room for added pampering and relaxation.
Licensed as an assisted living community, Thrive at Naples will cater to seniors ranging from those who are completely independent, to those who need more care. Residents will have the freedom of independence, with caring, competent staff able to assist when needed. The dedicated Memory Care neighborhood will serve residents with varying levels of dementia, while encouraging a high quality of life to residents and their families.
Thrive at Naples will present "Technology with Purpose", technology designed to engage, protect, and empower residents, staff, and family members. Residents will access their suites using an advanced keyless entry system, eliminating the hassle and difficulty some seniors have with traditional keys. Additional security measures will help to ensure resident safety including security cameras, and exterior controlled access. Digital Signage throughout the community will encourage participation in events and social offerings.
Thrive at Naples is located near the intersection of Pine Ridge Road and Livingston Road, the center of the rapidly growing Northeast side of Naples. The location offers easy access for family members and guests and many local offerings for community sponsored outings.
Thrive at Naples is a Joint Venture between Fortress Ventures, Compass Real Estate and AIG Global Real Estate. Fortress Ventures is a real estate development company specializing in senior living communities throughout the United States. Compass Real Estate is an Atlanta- based private equity company that actively invests in all commercial property types and markets throughout the US. AIG Global Real Estate Investment Corp., founded in 1987, comprises a group of international companies within AIG that invests in and actively manages real estate for clients and AIG member companies throughout the world.
For more information, visit http://www.thriveatnaples.com or call (239) 294-1101.