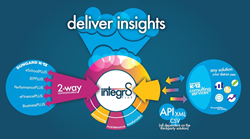 For a long time, school districts have struggled to bring disparate third-party software applications into a unified suite.
Bethlehem, PA (PRWEB) November 11, 2016
SunGard K-12 , the Bethlehem, PA leader in software solutions for K-12 school districts throughout the country, recently announced the launch of IntegratePLUS, a time, money and resource saving solution for school districts to integrate with third-party applications. Described as a breakthrough technology, IntegratePLUS brings to market an integration application historically absent from the K-12 market, but very prevalent in other industries. In a prepared statement, the company announced that IntegratePLUS was available to school districts of all sizes immediately.
"For a long time, school districts have struggled to bring disparate third-party software applications into a unified suite," said Dave Rice, Chief Operating Officer of SunGard K-12. "Integration was frequently a barrier to success; regrettably, factors like inflated costs, complex customization, even extended times for completion, moved to the forefront when, in fact, integration with other software solutions should be seamless, rapid, and far-reaching in regard to integration with any type of technology stack."
IntegratePLUS is the first-of-its-kind platform for seamless integration and rapid connectivity in the K-12 industry. After extensive research, development, and testing, SunGard K-12 provides school districts with the ability to integrate their vast network of software applications ranging from transportation, facilities management, library services, learning management systems, and payment processing, cafeteria programs, and document management, and everything in between including ERPs and Student Information Systems.
Taking a cue from other industries where integration engines and platforms are commonplace, SunGard K-12 began the development process for IntegratePLUS by announcing major advancements to their eSchoolPLUS API, adding increased functionality and point-to-point integration and data exchange to their industry leading SIS. IntegratePLUS was developed to provide everyday system users with the ability to easily connect applications so that the exchange of data can commence quickly. IntegratePLUS all but eliminates the limitations placed on school districts that made interfacing from traditional software applications to other third-party systems time consuming and expensive, and because IntegratePLUS brings together all solutions into a unified enterprise, data collection and analysis, and therefore better decision making, could be the most distinctive attribute of IntegratePLUS.
With a focus on product longevity, SunGard K-12 will also deploy IntegratePLUS to the company's next generation of connectivity. Whether it's current, in-development, or prospective applications, IntegratePLUS is the future of connectivity between ERP, SIS and other systems. In addition, IntegratePLUS is also the future of providing quality and deeper insights into new forms of analytics, reporting, and data science and management.
Joel Hames, Vice President, Product for SunGard K-12 and a critical member of the IntegratePLUS research and development team, reiterated the importance of the data attribute. "Certainly, IntegratePLUS has expansive benefits to any school district including enhancing student achievement and district wide operational success. But if we dive even deeper, knowing that all of a district's data can now reside in one place, and that exchange of data between systems is now seamless, we have the tremendous advantage of being able to collect the right data, foster it into the K-12 Success Ecosystem, and use that data to make meaningful decisions starting with student success."
IntegratePLUS from SunGard K-12 is one of many technological advancements in a long tradition of providing school districts with software solutions and consultative services that drive student achievement and operational success. With a singular, 46 year focus on K-12 products and services, SunGard K-12, along with the company's partners, nationally supports one out of every six students in nearly 1,400 school districts across the country.
About SunGard K-12
SunGard K-12 offers software solutions designed to help teachers, administrators, and parents support student achievement. PLUS 360 is a single integrated suite of software solutions for the management of student information, assessment and curriculum, special education, and financial and human resources. The suite—which provides district staff with anytime, anywhere access to important district information—can be deployed to work together or implemented as stand-alone systems to help meet educational goals and requirements. SunGard K-12 was acquired by FIS in November of 2015. For more information, visit sungardk12.com.
About FIS
FIS is a global leader in financial services technology, with a focus on retail and institutional banking, payments, asset and wealth management, risk & compliance, consulting and outsourcing solutions. Through the depth and breadth of our solutions portfolio, global capabilities and domain expertise, FIS serves more than 20,000 clients in over 130 countries. Headquartered in Jacksonville, Fla., FIS employs more than 55,000 people worldwide and holds leadership positions in payment processing, financial software and banking solutions. Providing software, services and outsourcing of the technology that empowers the financial world, FIS is a Fortune 500 company and is a member of Standard & Poor's 500® Index. For more information about FIS, visit http://www.fisglobal.com.