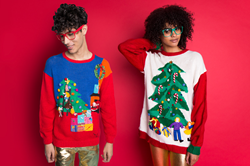 We joked that we were creating a Tinder for ugly sweaters.
Minnapolis, MN (PRWEB) November 15, 2016
Ragstock, the new and recycled clothing company, has created a fun, virtual tool to find that uniquely ugly Christmas or holiday sweater: the "Swipe-A-Sweater" web app.
Ragstock's Swipe-A-Sweater web app (http://www.swipeasweater.com) helps holiday shoppers find the sweater that suits them--quickly, inexpensively and without the hassle of sorting through racks of identical, mass-produced sweaters at chain retailers. There's far more holiday fun and spirit in finding one that's uniquely "you," and the Swipe-A-Sweater mobile app helps each person find a genuine vintage unique ugly sweater just as distinct as they are.
Swipe-a-Sweater is easy. Click on the free Swipe-A-Sweater link and answer a few simple questions. Ragstock's algorithms filter the answers and deliver sweater choices. Anyone who has seen or used a dating app knows the drill: Swipe right for like, left for nope.
Ragstock, based in Minneapolis with stores across the midwest and beyond, launched the "Ugly Sweater" retail movement a decade ago and continues to lead the category in innovation. The company employs dozens of vintage clothing purchasers around the globe, canvassing for dated but well-kept holiday sweaters year-round. If you prefer to hunt for your own sweater, you can visit one of their 34 locations (http://www.ragstock.com/stores) or visit them online. Ragstock offers thousands of sweaters at http://www.thesweaterstore.com.
"We have the largest inventory of vintage ugly sweaters in the world, more than 25,000," says Libby Finn, President of Ragstock. "Shoppers who want to make an authentic, personalized impression look to us."
Sweaters are sorted and graded according to size, style, and central theme—Santa, snowflakes, reindeer, music, cats (the most popular seller), and so on. Price varies accordingly. The majority of sweaters are imported, with most being roughly 15-20 years old. Though many were originally store-bought, it's extraordinarily rare to come across a duplicate.
Key to the products' charm is that "these were not clothes bought as a gag, but genuinely for seasonal parties and family gatherings," Finn says. "These weren't meant as kitsch at all, which makes them the real deal, not some mass market knockoff. Shoppers are attracted to authenticity."
Digital strategy and product shop Folklore (https://folklore.digital) designed and built the Swipe-A-Sweater app, tapping into the already developed filters implemented on Ragstock's thesweaterstore.com— then turned the system on its head with silly questions that nevertheless help users figure out their perfect Ugly Sweater Match.
"We joked that we were creating a Tinder for ugly sweaters," Finn laughs. "But the virtual matchmaking process works very well. We want every person to be unique around the holidays, and this helps make it real."