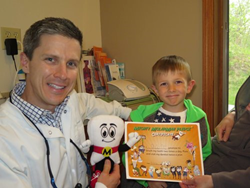 The Mighty MolarMan & Friends Experience really works!
(PRWEB) January 04, 2017
Sometimes a visit to the dentist might seem like the scariest thing in the world. Also, far too often oral health takes a back seat as we battle with our kids to brush and floss. Mighty MolarMan & Friends' 2017 Campaign raises national oral health awareness, and provides a fun and interactive educational experience for children, parents, teachers, and healthcare professionals.
It all starts with The Mighty MolarMan Pledge. Download the free Pledge Certificates, which children can sign at their dentist or school, as they make the promise to brush and floss daily. What a great New Year's resolution! Families with young children can enhance the experience with the "Molar in the Mirror" box set. It comes with a Mighty MolarMan plush toy, which can be kept on the bathroom mirror as encouragement for kids to brush and floss every single day. As an added bonus, children can bring the plushie to the dentist, arming them with courage and a fun friend to hold on to.
Mighty MolarMan & Friends enjoy volunteering within and giving back to the community. Mighty MolarMan makes appearances as a dedicated community servant, setting a sparkling example for the kids while bringing awareness to an important area of healthcare that often is overlooked.
"Oral health has always taken a backseat to other overall health concerns. The value placed on good oral health must be elevated to a much higher priority, starting within each household/family. We created "Molar in the Mirror" and The Mighty MolarMan Pledge to give parents useful tools for a New Year's resolution of excellent dental health for the entire family."
John U. Bond, D.D.S.
"Oral health education and resources are lacking, particularly in the underserved populations. We are excited to be involved, and expect this campaign to make a difference for those in need, especially the young children."
Juan Molano - Animator
This campaign invites all to participate, so download and take The Mighty MolarMan Pledge today! "Molar in the Mirror" box sets are available on Amazon.com; for every one sold, one is donated to a child in need. Move over Elf, there's a molar in the mirror, and he's always watching!
About Mighty MolarMan & Friends:
Mighty MolarMan & Friends was founded and created by Dr. John U. Bond and Juan Molano, also known as, "The MolarMakers." The dentist and animator from Dallas, TX launched MightyMolarMan.com in January 2015, showcasing the characters. A growing number of dentists are now adopting these lovable characters in their practices, becoming the Home of Mighty MolarMan & Friends in their communities across the country. The goal is to get kids excited about oral health, and provide a relaxing and fun dental healthcare experience for children & families. To find a Mighty MolarMan & Friends participating practice or to nominate your dentist to become one, go to http://www.mightymolarman.com
Press Contacts:
Dr. John U. Bond
Juan Molano
http://www.mightymolarman.com