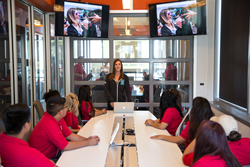 Mission Bay H.S. was an obvious choice when we' were considering how we could give back to our community
San Diego, CA (PRWEB) November 11, 2016
Mission Bay High School will visit The Control Group for a job shadow in their Pacific Beach office. On Wednesday, November 16th from 10am-12pm, 20 students from the 11th and 12th grade IT Pathways classes will visit The Control Group for a hands-on look into the world of a San Diego-based technology company. Students will get to see and participate in creating projects with a developer.
The Control Group does several of these job shadows every school year. Past job shadows have been with Hoover High School and O'Farrell Charter School. "Mission Bay High School is located where we live and work," says Tischa Culver, PR and Communications Specialist for The Control Group. "Mission Bay H.S. was an obvious choice when we were considering how we could give back to our community."
In December, The Control Group will be participating in the annual Hour of Code with Hoover High School. Tischa Culver is also on the San Diego Unified School District's Career Technical Education Advisory Committee (CTEAC).
About The Control Group
Created in 2011, The Control Group is one of the fastest-growing technology companies headquartered in San Diego. Their expertise is in web development and internet marketing. The company is the developer of InstantCheckmate.com, one of the top people search engines in the world and NextGen Leads, an extremely high quality insurance leads platform focused on streamlining lead acquisition. Because the company is already profitable, it has been able to develop a company culture that is shaking up the Technology Sector. Core to the company culture is its reach into the community to make a positive impact by volunteering, supporting, and getting involved in numerous important causes.