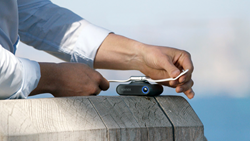 New York, NY (PRWEB) November 10, 2016
Kanex today announced that it has been named a CES 2017 Innovation Awards Honoree in the Computer Accessories category for its GoPower Watch portable Apple Watch charger. Products entered in the prestigious program are judged by a preeminent panel of independent industrial designers, independent engineers and members of the trade media to honor outstanding design and engineering in cutting edge consumer electronics products across 27 product categories.
The GoPower Watch is the first cordless portable charger for Apple Watch. This portable, magnetic charging dock uses the same inductive charging connector that comes with Apple Watch. Packed with 4,000 mAh of power, GoPower Watch's lightweight battery is capable of delivering six full charges to the Apple Watch, while an additional USB port allows an iPhone to charge simultaneously.
"We are thrilled to be recognized as an honoree of the CES 2017 Innovation Awards," said Andrew Truong of Kanex. "The Kanex GoPower Watch frees users from being tied down to wall outlets and offers six additional days of convenient, portable power packed into a premium, slim device."
The prestigious CES Innovation Awards are sponsored by the Consumer Technology Association (CTATM), the producer of CES 2017, the global gathering place for all who thrive on the business of consumer technologies, and have been recognizing achievements in product design and engineering since 1976.
The Kanex GoPower Watch will be displayed at CES 2017, which runs from January 5 – 8 in Las Vegas, Nevada, in the LVCC North Hall in booth #8906. A selection of Honorees will also be displayed at CES Unveiled New York, which features dozens of exhibitors and networking opportunities and runs 3:00-7:30 PM November 10 at the Metropolitan Pavilion in New York.
Entries are evaluated on their engineering, aesthetic and design qualities, intended use/function and user value, how the design and innovation of the product directly compares to other products in the marketplace and unique/novel features present.
Products chosen as CES Innovation Honorees reflect innovative design and engineering in some of the most cutting edge tech products and services coming to market.
CES 2017 Innovation Honoree products are featured on CES.tech/Innovation, which lists product categories, as well as each product name, manufacturer information, description, photo and URL.
The Kanex GoPower Watch is available on http://www.kanex.com/gopowerwatch for $99.95, as well as Amazon.com.
About Kanex
Kanex is a group of thinkers, creators, technologists, go-getters and doers. As an innovative leader in connectivity solutions for Apple, iOS, PC and Android, we have thrived on creating functional products that fit seamlessly into your everyday life. We have a passion for technology, which is why we are so dedicated to advancing tomorrow's technology, today. Our deep-rooted commitment to providing advanced consumer electronics has demanded we think not just of the individual, but also the home, the business and the environment they survive in. We are Kanex. Driven by passion, curious by nature and unconventional by design. Follow Kanex on Facebook, Twitter and Instagram.
More information can be found at http://www.kanex.com.
###
All products/services and trademarks mentioned in this release are the properties of their respective companies.
© 2016 Kanex. All rights reserved.