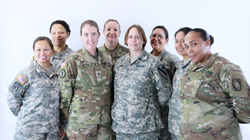 "Veteran" can also mean "Woman"
New York, NY (PRWEB) November 12, 2016
More than 25,000 women will transition from military service each year for the foreseeable future. While women enjoy gender equality in the armed services, they face many challenges upon entering the competitive U.S. job market. Without adequate preparation and a strong support system, female veterans are likely to experience isolation, extended periods of joblessness or employment below their experience, skills and value in the workplace.
Operation Reinvent is a non-profit organization that addresses these challenges and celebrates women veterans by offering life changing programs to help them find new purpose, reconnect with their femininity and know their value in the civilian workplace as they step out of uniform back into civilian life and new careers.
Operation Reinvent's Career Transition & Empowerment Programs are conducted on-site at military installations around the country, providing career coaching and a new sense of community to transitioning women veterans. These transformative events include a full-day webcast with expert career coaches followed by high-touch personalized makeovers complete with professional hair styling, make-up application and expert wardrobe consultations. Operation Reinvent is offered free of charge to transitioning women within six months of their separation from the service.
Co-Founders Julie Lewit-Nirenberg and Nancy Northrop most recently led Career Transition and Empowerment Workshops for 100 female soldiers with a combined military experience of over 1400 years of service at Fort Bragg, NC and Fort Hood, TX. Lewit-Nirenberg notes, "These remarkable women have proven expertise, leadership skills and mission-driven dedication and represent a tremendously valuable source of talent for American companies."
Nancy Northrop, who is also the mother of a U.S. Navy officer, concurs, "We are honored to be able to give back to the women who have sacrificed so much to serve us and hope that this Veterans Day - and throughout the year - Americans will celebrate the fact that "Veteran" can also mean "Woman" and help us by donating to help fund our impactful programs."