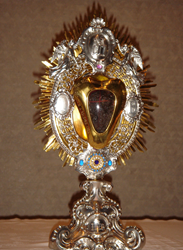 Shreveport, La. (PRWEB) November 12, 2016
For the first time, the enshrined heart of Saint John Berchmans will travel outside of its homeland of Belgium. The heart will arrive at St. John Berchmans Cathedral in Shreveport, the only Cathedral in the world to bear his name, on Thursday, December 8th and remain on display until December 18th. His Eminence Edwin F. Cardinal O'Brien will travel from the Vatican to be the special guest of honor as we mark the 150th anniversary of the apparition and miracle of St. John Berchmans which took place in Louisiana.
On December 14th, the heart will travel to Grand Coteau, Louisiana, to the site where Blessed Berchmans appeared to young Mary Wilson on December 14, 1866, while she was near death in the infirmary at the Academy of the Sacred Heart. On the ninth day of a Novena prayed through his intercession, Blessed John Berchmans appeared to Wilson and immediately, completely cured her of her lengthy, debilitating illness. This was the miracle which led to his canonization by Pope Leo XIII on January 15, 1888.
John Berchmans was born on March 13, 1599 in Diest, which is present day Belgium. He was the oldest of 5 children and his love for the Lord was evident at an early age. John Berchmans entered the Jesuit novitiate and made his first vows on September 25, 1618. Shortly thereafter, he was sent to Rome to continue his philosophy studies. While in Rome, he became ill and died on August 13, 1621 at the age of 22. While he lay in state, a blind woman was able to regain her eyesight after touching his fingers to her eyes. That was the first miracle that began the beatification process for John Berchmans. His heart was returned to his homeland where it is kept in a silver reliquary at a church in Mechelen.
Throughout the 10 days, St. John Berchmans Cathedral will host a number of scholars and exhibits.
For more information on the events please check out the website SJBdevotion.org. There is information about the visit and special rates at the Hilton Shreveport for visitors.