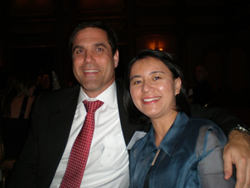 I hope the County of Los Angeles hears the message this jury sent -- loud and clear.
San Diego, California (PRWEB) November 11, 2016
The Law Office of Shawn A. McMillan, A.P.C. announces that last Friday, after seven years of litigation, a Los Angeles County jury in the case of Rafaelina Duval v. County of Los Angeles et al., Case No. BC470714, tried at the Superior Court of California, County of Los Angeles -- Stanley Mosk Court House, in Dept. 89 before the Hon. William A. MacLaughlin, has found that the Department of Children and Family Services guilty of the unwarranted seizure of a child from his mother with "malice, oppression, and fraud," according to court documents.
Los Angeles County, Supervising Social Worker Kimberly Rogers, and Social Worker Susan Pender will be required to pay Rafaelina Duval $3.1 million dollars.
Ms. Duval's baby, Ryan, was seized from her custody the evening of November 3, 2009, when he was only 15 months old. According to the complaint, DCFS social workers falsely accused Duval of general neglect and willfully and intentionally starving her child. The complaint also alleges that Baby Ryan was taken without a warrant – and only after the maternal grandfather called the social workers white trash and accused them of racism.
Attorney Shawn McMillan says, "The law is very clear and the social workers get training on this, you can not seize a child from its parents unless there's an emergency."
According to Ms. Duval's complaint, not only was baby Ryan taken away without a warrant, social workers ordered no reunification. Allegedly, the government social workers falsely accused Ms. Duval of suffering from Munchausen Syndrome by Proxy – an exceedingly rare mental illness. Ms. Duval was only allowed monitored visitation --- an hour an half every two weeks.
In addition to the jury's findings against Ms. Rogers and Ms. Pender, the jury also unanimously (12 - 0) found that the County of Los Angeles has "an official custom and/or practice of seizing children from their parents without a warrant, failed to enact an official policy or procedure when it should have done so, and knew, because of a pattern of similar violations that its official customs or practices were likely to result in the violation of parents' rights to be free of unwarranted seizures of their children."
The jury awarded Ms. Duval $2.9 million to compensate her for the emotional distress she suffered as a result of the unwarranted and malicious seizure of her baby. By separate verdict, the jury also awarded Ms. Duval an additional $165,000 based on the Defendants' disability based discrimination -- for a total verdict of $3.1 Million. Ms. Duval says, "No amount of money can ever replace what they took from me."
San Diego Lawyer Shawn A. McMillan, of the Law Offices of Shawn A. McMillan, A.P.C., was lead trial counsel in the case. Attorneys Tiffany Chung, Stephen King, and Richard Prager were co-counsel at trial.