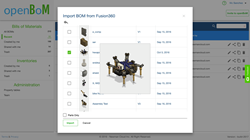 openBoM continues to demonstrate technological leadership on the Autodesk Forge Platform
Newton, MA (PRWEB) November 14, 2016
openBoM, the world's first cloud BOM management tool specifically designed to help manufacturing companies manage and track BOMs across organizational and geographic boundaries now provides seamless updates of design changes into a BOM. Design documents are one of the main sources of data used to establish Engineering Bill-of-Materials. The new seamless updates for data coming from Autodesk Inventor and Autodesk Fusion 360 reduces manual data entry mistakes and errors which occur when spreadsheets are used to manage BOMs.
The following Autodesk CAD systems include new openBoM integration features:

Autodesk® Fusion 360™ (using the Forge Platform™ API)
Autodesk® Inventor™
New features include:

Part only option.
Seamless updates of design changes into Bill of Materials.
Additional configuration support for built-in CAD BOM features.
Parts List Support. Allows the creation of multi-assembly part lists by generating BOMs from multi-level assemblies and calculating part lists with updated quantities.
Seamless updates of design changes into bill of materials. openBoM plug-ins now support seamless merge of changes made in CAD to openBoM BOMs. This new feature gives users the ability to make simultaneous changes to a shared BOM between engineering and manufacturing teams whilst at the same time, automatically update changes in the BOM made by design engineers in CAD.
Additional configuration support. Keeping data integration between CAD and BOM simple reduces the chances of costly mistakes and errors. The openBoM seamless integration announced today keeps things simple by offering a variety of CAD BOM configuration options not available to spreadsheet users: Autodesk Inventor BOM structure options, Inventor BOM reports and more. These integration options provide users seamless data transfers between CAD and BOM without requiring additional data mapping and configuration tools.
Autodesk's vision and support of cloud product technologies align well with openBoM which deploys multi-tenant cloud technologies to share, perform real-time BOM edits and collaborate across distributed networks of engineers, contractors, suppliers, and manufacturers. "Our announcement at Autodesk University expands openBoM existing out-of-the-box CAD integration configurations continuing our drive to make openBoM the ultimate replacement for spreadsheets," said Oleg Shilovitsky, CEO and Co-founder of Newman Cloud, Inc. "With this announcement, openBoM continues to demonstrate technological leadership on the Autodesk Forge Platform providing our Fusion 360 users unparalleled management of BOMs in the cloud," said Jim Quanci, Senior Director Autodesk Forge.
About Newman Cloud, Inc. and openBoM™
Newman Cloud, Inc. was co-founded by Oleg Shilovitsky and Vic Sanchez, both experienced software industry veterans. openBoM, a wholly owned and branded product of Newman Cloud, Inc. is a cloud data management tool that removes the traditional pain of managing BoMs across organizational and geographic boundaries. Newman Cloud, Inc. is headquartered in the Boston, MA area. openBoM's website is at http://www.openbom.com. Learn more how openBoM is the new alternative to BoM spreadsheets. For more information or questions please contact vic(at)openbom(dot)com.
Autodesk Forge Platform, Fusion 360, and Autodesk Inventor are registered trademarks or trademarks of Autodesk, Inc., and/or its subsidiaries and/or affiliates in the USA and/or other countries.