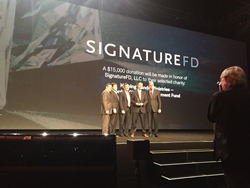 Atlanta, Georgia (PRWEB) November 11, 2016
SignatureFD, a financial design and advisory firm headquartered in Atlanta, was selected as the winner of the 2016 Best-in-Business IMPACT Award™, part of Charles Schwab & Co., Inc.'s IMPACT Awards®, which recognizes firms who demonstrate excellence in the business of independent financial advice.
Members of the SignatureFD team accepted the award Oct. 26 during Schwab's annual IMPACT conference, held this year in San Diego. As part of the award, Schwab donated $15,000 on behalf of the firm to Helping Hands Ministries, Jordan Chamblee.
Schwab presents the annual Best-in-Business IMPACT Award™ to an independent advisory firm that has been in business for at least 10 years, has a track record of growth and excellence, and uses technology solutions to help expand market reach, responsiveness and operational efficiencies.
In announcing the awards, Schwab acknowledged SignatureFD for its efforts to empower people since 1997 to use their wealth—which the Atlanta firm defines as time, talent, influence and money—to live a great life. To that end, SignatureFD has established client communities such as SignatureWOMEN® and SignatureEXEC® to bring together clients to meet, learn, grow and have fun.
SignatureFD aspires to reach approximately $4 billion in assets under management and to surpass 1,800 clients by 2018 through strong organic growth, acquisitions and client retention.
A related video describes how the firm has built a culture dedicated to personal empowerment and company greatness and has built a technology platform to provide a superior client experience.
Jeff Peller, SignatureFD Co-Founder and Chief Executive Officer, said he was honored to receive the award.
"Our team applies our core values of generosity, gratitude, growth and greatness to everything we do. The Best-in-Business IMPACT Award™ is humbling because it really exemplifies the deeply positive impact we're having with clients, our company and the community at large."
SignatureFD and its employees are not affiliated with, are independent of and are not employees or agents of Charles Schwab & Co., Inc. ("Schwab"). SignatureFD, LLC is not owned by or affiliated with Charles Schwab & Co., Inc. ("Schwab"), and its personnel are not employees or agents of Schwab. Schwab does not prepare, verify or endorse information distributed by SignatureFD. The Best-in-Business IMPACT Award™, part of Schwab's IMPACT Awards® program, is not an endorsement, testimonial, recommendation or referral to SignatureFD with respect to its investment advisory and other services.
About SignatureFD
SignatureFD, LLC, is an innovative and comprehensive financial design firm with a simple mission: to empower each client to use their wealth to live a great life. Founded in 1997, SignatureFD offers a full suite of wealth management services designed to meet the needs of high-net-worth individuals and families. These include asset management, asset protection, tax planning, cash flow and debt management, wealth transfer planning, and financial life planning. For more information, visit the SignatureFD website at http://www.signaturefd.com.
Press Contact
Heather Fortner, Partner, Chief Compliance Officer and Chief Operating Officer
1230 Peachtree St. NE, Suite 1800
Atlanta, GA 30309
T 404.253.7692
E heather(dot)fortner(at)signaturefd(dot)com