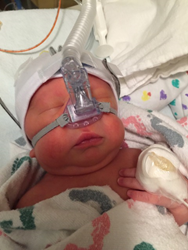 Safety Training Seminars offers the lowest price NRP courses in the San Francisco Bay Area and Sacramento.
San Jose, CA (PRWEB) November 14, 2016
Bay Area healthcare providers and hospitals can now access Neonatal Resuscitation Program courses at the many Safety Training Seminars locations throughout the greater Bay Area & Sacramento. "Adding NRP® will allow our current customers to renew this vital credential in the professional manner in which we offer all other courses in our training facilities," said Charles Seidel, Safety Training Seminars founder and CEO.
Courses are already on the public calendar with the first course offered in Q-4 2016. The plan is to offer NRP courses in all eight STS locations throughout the San Francisco Bay Area & Sacramento. Tara Valle, Training Center Manager, said, "We are proud to state that we have listened to the countless requests to offer the Neonatal Resuscitation Program provider course. We are excited to offer this vital class for the NICU and Labor & Delivery community."
The American Academy of Pediatrics Neonatal Resuscitation Program (NRP®) course conveys an evidence-based approach to care of the newborn at birth and facilitates effective team-based care for healthcare professionals who care for newborns at the time of delivery. NRP® utilizes a blended learning approach, which includes online testing, online case-based simulations, and hands-on case-based simulation/debriefing that focus on critical leadership, communication, and team-work skills.
There are nearly twenty acute care hospitals located in the Bay Area and hundreds of healthcare providers working in the pre-hospital, emergency, and neonatal intensive care specialties. Many of these individuals are required to maintain this credential on a 24 month renewal cycle. That kind of demand requires dynamic support. The STS team intends to make NRP® training just as convenient and professional as they have BLS, ACLS, and PALS.
About Safety Training Seminars
STS has been training Bay Area rescuers since 1989. Their team of professional instructors have worked tirelessly to equip civilians and healthcare providers with the skills of NRP, BLS, ACLS, PALS, First Aid and CPR. Each year the STS team trains more than 30,000 people in the Bay Area in the life-saving skills of ACLS, PALS, First-Aid and CPR. Their customers can choose from over 400 course dates in San Francisco, Redwood City, Dublin, San Jose, Berkeley, Concord, Novato, or Sacramento. STS is an American Heart Association Training Center and a recognized CE provider with the California Board of Registered Nursing.
For more information about taking the NRP class, contact Safety Training Seminars at (415) 437-1600 or visit their website: http://www.cprcpr.com