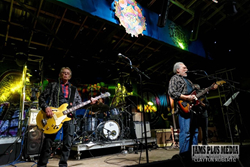 Fairfield, CT (PRWEB) November 11, 2016
Fairfield Theatre Company is hosting a Thanksgiving week blowout with four concerts in four days. From Rock & Roll Hall of Famers to 80s singalongs, there's a variety of shows in both The Warehouse and StageOne that will appease the entire family.
As people flock to their hometowns for the holiday weekend, Hot Tuna returns as a full-fledged rock band to deliver an evening of classic tunes and epic improvisations the night before Thanksgiving, Wednesday, Nov. 23. Rock & Roll Hall of Famers Jorma Kaukonen and Jack Casady have celebrated over 50 years of playing together, including headlining sets back in the day at Monterey and Woodstock, as well as their two-night sold-out run at the Beacon Theatre in November 2014. They'll perform original Jefferson Airplane songs as well as pay homage to the big dogs of the hippie revolution. This show is not to be missed and will certainly sell out.
Following turkey day, FTC presents two shows to help burn off that stuffing and pie Friday, Nov. 25. Brother Joscephus & the Love Revolution returns to StageOne for what has become a Thanksgiving weekend tradition. It's an explosion of New Orleans party music, soul in the style of Ray Charles and Al Green, a good helping of jam-bandy roots rock with a splash of powerful upbeat gospel, without the religious overtones.
That same night just over the FTC parking lot, 80s cover band Mullett brings an arena-style stage and lights performance to The Warehouse. For over a half-decade, Mullett has proven to be the premier rockers for hair band fanatics and lovers of rock n' roll. By delivering the best of the 1980s in big hair and faithful renditions, Mullett recreates the vibe of those times with unrivaled conviction. Mullett has the unique ability to rock and captivate their audience with the sights and sounds of the glam band era. Mullett fans agree; this is the closest anyone can get to classic Van Halen, Def Leppard, Bon Jovi, Journey and Poison without hitting 88 mph in a tricked-out DeLorean.
To close out a funky and loud weekend at FTC, Caravan of Thieves, one of the area's most theatrical and unique bands, performs a night of eclectic music Saturday, Nov. 26. They're not just bluegrass. They're not just alt-country. They're not just gypsy jazz. They're all of that with some John, Paul, George and Freddie Mercury thrown in. It's theatrical and humorous, musical and intense. If Django Reinhardt, the cast of Stomp and the Beatles all had a party at Tim Burton's house, Caravan of Thieves would be the band they hired.
Fairfield Theatre Company has quite the mix of music to get the family out and dancing around. It's also a chance for to escape the madness to catch some live music. All tickets, information, and samples of the music can be found at fairfieldtheatre.org
About Fairfield Theatre Company:
Fairfield Theatre Company is a highly-acclaimed nonprofit performing arts organization located in the heart of downtown Fairfield. FTC presents over 300 concerts and events each year featuring outstanding national talent at FTC's StageOne and at The Warehouse. FTC's venues are widely recognized as being the best places to see live performances in the region. FTC's mission is to connect and enrich our community through the transforming power of the arts. For more information, go to fairfieldtheatre.org.