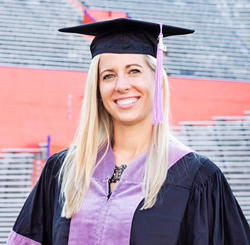 Bradenton, FL (PRWEB) November 11, 2016
Dr. Lindsay Eastman is pleased to announce that Dr. Christie Eastman, his daughter, has recently joined him at his cutting-edge dental practices in both Lakewood Ranch and Bradenton, FL locations. Dr. Christie Eastman brings the latest training for effective and minimally-invasive techniques for a variety of periodontal care, including dental implants and laser gum disease therapy, to her community.
Dr. Christie Eastman has always had a strong passion for academics. She started her journey in Bradenton then attended Rollins College where she earned her Bachelor of Science with Honors in Biology. She then went on to attend the University of Florida College Of Dentistry where she earned her Doctorate of Dental Medicine Degree, graduating at the top of her class. After earning her dental degree, she completed her post graduate training in a highly competitive periodontics residency program at the University of Florida. During residency, she received a Master of Science Degree and a Professional Certificate in Periodontics. Dedicated to her education, Dr. Eastman takes pride in regularly completing continuing education courses in areas such as dental implants, laser dentistry, gum recession treatment, and other periodontal treatments, in order to offer her patients modern, gentle and effective techniques using the latest technology.
Offering her care to the underserved, Dr. Eastman has provided necessary dental care on a mission trip to Guatemala and volunteered at the Gainesville Community Ministries dental clinic. She is also an instructor in the University of Florida Continuing Education Department, where she teaches dental hygienists how to administer local anesthesia and shares her passion of providing excellent dental care.
Those receiving care from a periodontist in Bradenton, FL and Lakewood Ranch, FL can be assured that their doctor is not only highly-trained, but is a specialist in periodontal treatment. Sharing her father's desire to understand the unique needs of each patient, Dr. Christie Eastman ensures every patient understands their treatment plans and receives personalized care.
Those who would like to learn more about receiving periodontal treatment, including dental implants, gum recession treatment, and laser dentistry from Drs. Eastman are encouraged to schedule a consultation by calling their offices at 941-792-3899 or 941-351-3000.
About the Doctor
Lindsay B. Eastman, DDS, MS, PA is an experienced periodontist offering patients personalized dental care since 1980. Dr. Eastman has two practice locations in, Bradenton, FL and Lakewood Ranch, FL. Dr. Eastman received his Doctor of Dental Surgery degree from Loyola University Dental School where he completed his postgraduate training in Periodontics and his Masters of Science in Oral Biology. He received his Post-Graduate specialty training in the Surgical Placement of Dental Implants from Northwestern University Dental School, and completed Business Management Training from Pride Institute. He is part of only one percent of dental professionals providing the LANAP® FDA cleared laser procedure for gum disease and periodontal treatment. To learn more about Dr. Eastman, his associates and his dental services, visit his website at http://www.eastmanonline.com and call (941) 792-3899 for the Bradenton location or (941) 351-3000 for the Lakewood Ranch location for a personalized consultation.