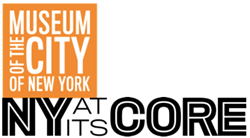 New York, NY (PRWEB) November 14, 2016
**Media Advisory**
--Ribbon Cutting and Media Preview
Tuesday, November 15, 9 am – 12 noon
--"Musical Preview" of Weekend Festival
Thursday, November 17, 11 am – 12 noon
--"Gotham Groove: 32 Hours of Nonstop NYC"
First-Ever 32-Hour Continuous Public Festival
Celebrating NYC Past, Present, and Future
Saturday, November 19, 10 am – Sunday, November 20, 6 pm
The Museum of the City of New York (MCNY) is hosting a week's worth of media opportunities to launch the highly-anticipated New York at Its Core – the Museum's first permanent exhibition presenting the entire dramatic 400-year history of New York City and a hi-tech glimpse in the future. New York at Its Core opens to the public on Friday, November 18.
New York at Its Core, which will occupy the entire first floor of the Museum, is the capstone of a 10-year, $100 million renovation of the entire institution and is sure to become a major attraction for New Yorkers of all ages, schools, and tourists from around the world. Occupying three interactive galleries in the Museum's landmark building on New York's Museum's mile, New York at Its Core presents the full 400-year history of New York from a striving Dutch village to today's "Capital of the World" -- a preeminent global city facing the future in a changing world.
Among those attending the ribbon-cutting event on Tuesday, November 15 at 9 am will be New York City Schools Chancellor Carmen Farina; New York City Council members Jimmy Van Bramer, Ben Kallos, Dan Garodnick; New York State Senator Liz Krueger, and New York State Assemblyman Dan Quart.
On Thursday, November 17 from 11 am – 12 noon, the Museum will offer a "Musical Preview" of Gotham Groove – the Museum's 32-hour opening weekend festival featuring more than 20 different entertainment acts and events. On hand will be the acapella group, The New York Belles, and a Swing Dance Group.
During the opening weekend of New York At Its Core from November 19, 10 am – Sunday, November 20, 6 pm, the Museum will host an unprecedented free weekend-long public festival – Gotham Groove with festival musical performances by Broadway stars, an overnight movie marathon of classic NYC films, a silent disco dance party, family programs, free admission to the Museum, and much more. Thousands of New Yorkers and visitors of all ages from around the country and the world are expected to attend.
SCHEDULE OF MEDIA OPPORTUNITIES:
WHERE: Museum of the City of New York
1220 Fifth Avenue at 103rd Street
Tuesday, November 15, 9 am – 12 noon
WHAT: Ribbon Cutting and Media Preview
WHO:

Whitney Donhauser, Ronay Menschel Director, Museum of the City of New York
Sarah Henry, Deputy Director and Chief Curator, Museum of the City of New York
Hilary Ballon, Future City Lab Curator
Elected Officials, including:
New York City Schools Chancellor Carmen Farina
New York City Councilmember Jimmy Van Bramer
New York City Councilmember Ben Kallos
New York City Councilmember Dan Garodnick
New York State Senator Liz Krueger
Assemblyman Dan Quart
Thursday, November 17, 10 am – 12 noon
WHAT: "Musical Preview" of Launch Weekend Festival
WHO:

The New York Belles, A Capella Doo-wop Soul Group
Renowned Broadway Singer
Whitney Donhauser, Ronay Menschel Director, Museum of the City of New York
Sarah Henry, Deputy Director and Chief Curator, Museum of the City of New York
Three Interactive Galleries featuring 500 Significant Objects from NYC Icons
Saturday, November 19, 10 am – Sunday, November 20, 6 pm
WHAT: 32 Continuous Hours of a Public Festival Celebrating the Launch of
New York at Its Core
Free Admission All Weekend
WHO: More than 25 celebratory New York-themed performances and events, including:

New York City's best acapella groups
Broadway performers
Walt Whitman "personator"
NY Movie Marathon
Gospel Singers
Silent Disco
Family Programs
Thousands of New Yorkers and tourists of all ages from around the country and the world
CONTACT: Credentialed members of the media are invited to attend. Please RSVP to:
Jacob Tugendrajch | jtugendrajch(at)mcny(dot)org | 917-492-3480
Lisa Sherman-Cohen | lisa(at)gzandassociates(dot)com | 347-539-7382
###