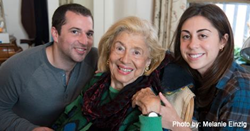 New York, New York (PRWEB) November 11, 2016
Every year, DOROT, a non-profit serving socially isolated older adults, hosts a Thanksgiving banquet for seniors. This year, over 270 seniors will congregate at Temple Rodeph Shalom to be served a delicious Thanksgiving meal. The event will bring the community together, with volunteers and Board members from DOROT acting as waiters and serving the meal to seniors.
Seniors attending DOROT's Thanksgiving Banquet can expect an afternoon filled with a delicious, kosher meal, live entertainment, music and great company. In the past, guest attendees have included New York City Comptroller Scott Stringer and City Council Member Helen Rosenthal.
In addition to the Banquet, DOROT has planned a special meal delivery for those who are unable to attend. Volunteers deliver a meal and spend an hour visiting with the older adult, helping them celebrate this uniquely American holiday. We plan on delivering meals to 250 seniors in DOROT's catchment area.
DOROT is always looking for new volunteers. If you are interested in participating in DOROT's Thanksgiving Banquet, please contact Carrie Jacobs at (917) 441-3713, or apply to volunteer at dorotusa.org.
DOROT's mission is to alleviate social isolation among the elderly and provide services to help them live independently as valued members of the community. We serve the Jewish and wider community, bringing the generations together in a mutually beneficial partnership of elders, volunteers, and professionals. Our work provides an effective model for others.