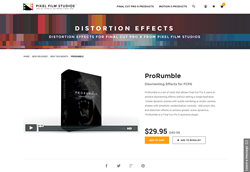 ProRumble is a set of tools that allow editors to create disorienting effects without setting a single keyframe inside of Final Cut Pro X
Aliso Viejo, California (PRWEB) November 15, 2016
"ProRumble is a set of tools that allow editors to create disorienting effects without setting a single keyframe inside of Final Cut Pro X," said Christina Austin - CEO of Pixel Film Studios.
ProRumble is a set of titles that allows Final Cut Pro X users to create disorienting effects without setting a single keyframe. Easily create scenes with light rumbles or out of control trembling with simple controls that can be found in the published parameters section in FCPX. Add prism & blur effects with absolute ease.
ProRumble features camera controls that allow users to randomize the X, Y, and Z position of the scene camera. To add a stronger rumbling effect, simply increase the number of pixels the scene will randomly shift. To create new movements, simply click the generate buttons next to the "New Movement" controls. Additionally, users can control the noisiness and frequency of the animation.
ProRumble features a preset that allows users to create the illusion of rumbling and distortion around a specific subject. To create this effect, simply choose the "distorted" preset and center the on-screen control to the subject. If the subject is in motion, Final Cut Pro X users can easily keyframe the on-screen control to follow the subject.
ProRumble features simple to use distortion effect controls including blur amount, prism amount, prism opacity, and prism rotation. In addition, users can randomize the rotation of presets in combination with erratic camera movements to create extreme effects. ProRumble is the easiest way to add subtle to crazy disorientation effects to the scene.
Established in 2006, Aliso Viejo, California-based Pixel Film Studios is an innovative developer of visual effects tools for the post-production and broadcast community. Their products are integrated with popular non-linear editing and compositing products from Apple FCPX. Apple, the Apple logo, Mac OS X, and Macintosh are registered trademarks of Apple Inc. in the U.S. and/or other countries. All other trademarks and trade names are the property of their respective owners.