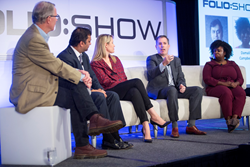 "The 2016 Folio: Show was a three-day celebration of the creativity, dynamism, and resilience of magazine media." said Folio: VP Tony Silber.
New York, NY (PRWEB) November 11, 2016
A record high of 700 publishing, advertising, and marketing professionals from across the globe visited The Folio: Show, magazine media's most comprehensive industry trade show and conference, enjoying 50-plus sessions spanning six tracks, four keynote sessions, two co-located summits, and an exhibit hall featuring over 40 industry suppliers.
"The 2016 Folio: Show was a three-day celebration of the creativity, dynamism, and resilience of magazine media," said Folio: VP Tony Silber. "We had three strikingly different and equally provocative keynotes, and a rich conference program with an all-star faculty from all sectors of the industry. Our co-located C-Summit was a huge success, as well."
In line with Folio:'s mission of providing all segments of the publishing industry with cutting-edge insights and best practices, new additions to the Folio: Show program this year included entire conference tracks dedicated to content marketing and events – two of the fastest growing revenue sources for publishers – as well as keynotes delivered by HTC's Dan O'Brien, author Douglas Rushkoff, and a panel consisting of Wasserstein & Co. co-managing partner Anup Bagaria, Good Housekeeping editor-in-chief Jane Francisco, IDG CEO Michael Friedenberg, and Damali Campbell, Print Investment Director at Media Assembly.
The Folio: C-Summit, running concurrently with the conference program, had more than 50 participants in an exclusive, invite-only format, attracting executives from across the B2B and B2C segments of the industry, including keynoter David Carey, president of Hearst Magazines, and moderator Peter Goldstone, CEO of Hanley Wood.
Folio:'s cornerstone awards program, the Eddie & Ozzie Awards, returned to the Folio: Show to honor over 250 examples of outstanding design, uncompromising journalism, and fearless innovation. Also honored were the Folio: 100, a selection of the industry's top achievers in 2016, as well as the 30 Under 30, representing the next wave of industry talent.
"We are thrilled and honored to play a critical role for magazine media with the largest and most inclusive conference in the industry—the one show every year that is truly a 'must attend' event, where magazine media professionals converge to rethink, renew, and refresh," added Silber.
Next year's Folio: Show, scheduled for October 9-11, 2017, will return to the Hilton Midtown Hotel. For more information, visit http://www.folioshow.com.
About Folio:
Folio: is dedicated to providing magazine publishing professionals with the news, insights, and best practices to keep them in tune with today's media industry trends. Folio: has a wide range of resources to help you stay on top of the latest news and find real solutions that help you drive revenue including newsletters, Folio: magazine, awards programs, webinars, conferences and networking events. For more information, visit http://www.foliomag.com.
About Access Intelligence:
Access Intelligence, a portfolio company of Veronis Suhler Stevenson, is a b-to-b media and information company headquartered in Rockville, Md., serving the media, PR, cable, healthcare management, defense, chemical engineering, satellite and aviation markets. Leading brands include PR News, AdMonsters, Cynopsis, Cablefax, Folio:, Event Marketer, LeadsCon, Chief Marketer, Media Industry Newsletter, Defense Daily Network, AviationToday, Studio Daily, Power, Via Satellite and Exchange Monitor. Market-leading shows include LeadsCon, AdMonsters OPS and Publisher Summits, The Folio: Show, Experiential Marketing Summit, SATELLITE 2017, OR Manager, LDC Gas Forums, Clean Gulf, ELECTRIC POWER, and Western Power Summit.