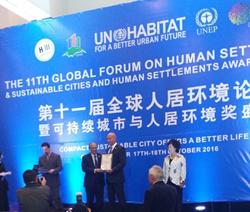 "It was an amazing experience, and I came home inspired and energized by the events that took place at Habitat III."
Framingham, MA (PRWEB) November 11, 2016
Framingham, Massachusetts native Bradd Morse received a 2016 Sustainable Cities and Human Settlements Award at the United Nations Conference on Housing and Sustainable Urban Development (Habitat III) in Quito, Ecuador on October 18, 2016.
The award, given during the conference's Global Forum on Human Settlements (GFHS), honors Morse's work designing socially and environmentally responsible ecotourism attractions through his New York based company, Canopy Tours, Inc.
"I feel very lucky to have been a part of this important conference, and deeply honored to receive a Sustainable Cities and Human Settlements Award," Morse said. "It was an amazing experience, and I came home inspired and energized by the events that took place at Habitat III."
Habitat III—which continued a discussion of sustainable urbanization around the world begun at Habitat I (1976, Vancouver) and Habitat II (1996, Istanbul)—explored the concept of "Better City, Better Life." This connects to a "New Urban Agenda" considering the scale and nature of worldwide urban development, poverty, and environmental challenges such as climate change.
The global summit also follows last autumn's UN Sustainable Development Summit, which defined a 2030 Agenda for Sustainable Development. The Sustainable Cities and Human Settlements Award Ceremony 2016 helped promote that agenda.
With Canopy Tours, Inc., Morse designs zipline courses, treetop walkways, and other adventure attractions. His company also offers consulting services for clients around the world, with a focus on designing top-quality ecotourism installations that fully take into account their ecological and social footprint. The Sustainable Cities and Human Settlement Award presented to Morse by the GFHS came in the "Scenic Spot with a Low Carbon Footprint" category, and specifically spotlighted Canopy Tours, Inc.'s New York Zipline Adventure Tours at the Hunter Mountain ski resort.
Morse got his start installing adventure parks for camps and schools throughout his home state of Massachusetts. His commitment to ecotourism development that integrates thoughtfully with local communities and local ecosystems synchronizes nicely with Habitat III's long-range vision.
Canopy Tours, Inc. has been building custom, sustainable tourism adventures throughout the world for the last thirty years and is recognized as a leader in the field. Each attraction is custom designed and based on the specific needs of the client, but also considers factors such as environmental and cultural impact as well as the long term sustainability of a project within the surrounding community.
For more information on Bradd Morse and Canopy Tours, Inc. visit: http://www.canopytourdesign.com