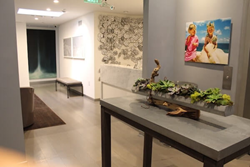 ...the new office features the latest hair restoration equipment and technology while having the look and feel of an art gallery. - Parsa Mohebi, MD
Los Angeles, CA (PRWEB) November 11, 2016
Parsa Mohebi Hair Restoration announces the immediate opening of their new medical office in Beverly Hills, California. Their new location is 9735 Wilshire Blvd Penthouse and is located in the same building as their old Beverly Hills office but is now on the top floor of the building.
Dr. Parsa Mohebi, founder of Parsa Mohebi Hair Restoration, says there is a reason he moved his office to a different floor in their current location. "Our practice constantly strives to improve the quality level of the service we offer our patients. It's the way we maintain 100% customer satisfaction. The opportunity arose recently to move from our current Wilshire Blvd location to a more modern and much larger space in the same building. After examining the new space, I realized that the expanded work area and layout of the office would allow us to better serve our patients."
Dr. Mohebi went on to say that, "the new office features the latest hair restoration equipment and technology while having the look and feel of an art gallery. We try to make the patient experience more inviting. Our new location does just that thanks to amenities and office decor that guarantees a visit that doesn't even seem like a patient is at a doctor's appointment."
When asked what he looks forward to in the new location of his office, Dr. Mohebi said, "I find it exciting to serve our patients in a new office while still maintaining the trust and comfort level we've built with them by being located in the same building. Our staff looks forward to many more years of serving our patients in Beverly Hills as well as the greater Los Angeles area."
About Parsa Mohebi Hair Restoration:
With offices in Beverly Hills and Encino, Parsa Mohebi Hair Restoration provides its patients with the most advanced hair restoration techniques currently available. The practice performs both FUE and FUT procedures to give patients the hair transplant results they desire.