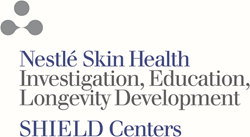 We hope that this discussion with these extraordinary entrepreneurs will inspire creative and bold thinking and perhaps be the starting point for digital skin health innovations of tomorrow
New York City (PRWEB) November 14, 2016
On November 16, four female founders of leading digital health startups will share the stage at a special panel discussion hosted by Nestlé Skin Health SHIELD (Skin Health Investigation, Education, Longevity Development) and the New York chapter of the Women's Dermatologic Society (WDS). In a session moderated by Galderma patent attorney Jessica Mikus, the speakers will share their insights into what it takes to build a successful business in digital health.
The WDS was founded in direct response to the lack of women's voices at meetings of the American Academy of Dermatology in the 1970s, and has since grown from a handful of doctors to more than 1,300 members in 33 countries.
"Although women are increasingly represented in the field of dermatology, few are active in digital health," said Dr. Jeannette Jakus of the Women's Dermatologic Society. "As we live longer lives, the need is growing for creative innovation to ensure that our skin remains healthy throughout our lives. This discussion is an important first step toward fostering greater involvement of female dermatologists in digital health."
The speakers will offer an inside look into the world of health technology and candidly discuss the challenges and the triumphs they experience as female entrepreneurs in a traditionally male-dominated space, addressing what the Clinton Foundation has referred to as "a concerning lack of women's leadership" in the field. The speakers include:

Ms. Arthur is a successful therapist, entrepreneur and women's advocate. Her passion for the field of psychotherapy led her to start two wellness-based businesses and a private counseling practice, all before the age of 30. She built In Your Corner into global enterprise that helped thousands of people receive therapy online.
Dr. Miranda has been in the mental health and wellness field for over 10 years. She is a co-founder and the chief clinical officer of Psocratic, a data-driven organizational wellness company.
Dr. Nguyen founded Innovatively, a technology startup that helps today's healthcare and life science businesses fill information gaps and assess new opportunities. She developed the platform at the Jacobs Institute at Cornell.
Ms. Powell founded Sodium Analyte Level Test (S.A.L.T.), a startup launching the first portable device to measure daily salt intake, without a lab. She is a Biomedical Sciences PhD candidate at Weill Cornell Medicine, where she launched S.A.L.T.
"SHIELD is proud to partner with WDS to bring together visionary leaders from different disciplines to learn from one another," said Dr. Warren Winkelman, Senior Medical Director of SHIELD. "We hope that this discussion with these extraordinary entrepreneurs will inspire creative and bold thinking and perhaps be the starting point for digital skin health innovations of tomorrow."
About SHIELD
SHIELD is a global network of innovation and education hubs gathering today's most creative and visionary thinkers from diverse disciplines to generate, develop and incubate ideas to advance skin health for tomorrow. SHIELD explores creative partnerships, new concepts and technologies to help preserve lifelong skin health, mitigate the emergence of skin conditions and integrate the skin dimension into the organization of age-friendly cities.
About the WDS
The Women's Dermatologic Society, founded in 1973, is dedicated to helping dermatologists fulfill their greatest potential and assisting them in making a contribution to our specialty and society. The mission of the WDS is to be the premier organization cultivating personal and professional development of dermatologists dedicated to excellence in patient care, mentorship, volunteerism, and leadership.