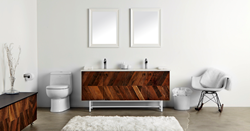 "MORE offers a solid foundation with great components, yet focuses primarily on the fronts. So when it's time to make a change or upgrade, you're not replacing the entire cabinet, just the doors."
(PRWEB) November 17, 2016
A new venture from Ikea door company Semihandmade, MORE's collection of bath, media and console casegoods allows architects, designers and specifiers to create custom modern furnishings for hospitality, office, retail and multifamily applications at a competitive price. All products are manufactured in the United States.
Says Semihandmade founder John McDonald, "Semihandmade has grown tremendously in six years. We now employ over fifty people, we have showrooms in multiple cities, and we'll complete 3000 projects in 2016. Entering the hospitality/contract market with a private-label cabinetry line seemed like the next logical step."
McDonald adds, "A big part of Semihandmade's growth has been using WeWork spaces as mini-showrooms. What we've seen there is not only a lot of wear-and-tear, but that users' tastes are constantly evolving. MORE offers a solid foundation with great components, yet focuses primarily on the fronts. So when it's time to make a change or upgrade, you're not replacing the entire cabinet, just the doors."
Key to the MORE concept is collaborations with well-known players in the Hospitality and Contract fields. Door options include reclaimed Teak from Indoteak, colored fiberglass from Modernica, and hand-cut veneers from Maya Romanoff, as well as textiles, tiles and printed artwork from the likes of Mid-Century Modern icon Rex Ray, Erik Abel and Lisa Congdon. Hardware suppliers are Sugatsune and Blum.
Set to launch in February 2017, MORE cabinets come fully-assembled and have a 4-6 week lead-time. Pieces are priced in the mid- to premium-range. Bath, media and console cabinets will be on display in multiple Semihandmade locations, as well as in the new Sugatsune showroom in Chicago, starting in January.
ABOUT MORE/SEMIHANDMADE
Founded in 2011, Semihandmade makes doors that fit Ikea cabinets. Showrooms include Palm Springs, LA, Chicago, New York and Brooklyn. The company ranked #489 on Inc. Magazine's list of the 5000 fastest-growing private companies in 2015, and #523 in 2016. For more information, visit http://www.morecontract.com.