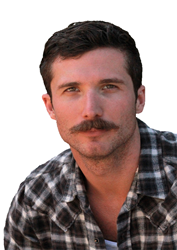 "I knew that one of my biggest expenses in starting my life over again would be a car, so I chose not to have one."
Westlake Village, CA (PRWEB) November 13, 2016
Working at Starbucks as a shift supervisor, waiting tables 5 days a week, and performing as a DJ for weddings on the weekends. This was Matthew's reality back in 2014 and 2015. He did this all without the luxury of a car.
It was all about wanting to save as much money as possible with what he knew he could achieve.
"I knew that one of my biggest expenses in starting my life over again would be a car, so I chose not to have one."
After suffering from depression and feeling very lost, Matthew found guidance from a self help book. Matthew wrote down his goals and set the bar high for himself. Apart from wanting to write a novel about his late fathers life, one of his breakthrough goals was to become a real estate agent. For years Matthew was able to save half of his income every month, an average of one thousand dollars. Matthew also changed the way he spoke and the way he thought about life. He began to ask himself, "What do I have to offer this world?" It was this question that sparked his path to becoming more grounded and motivated on working towards his goals.
"My mission is to use my personality and creativity to educate and inspire others to freely express their talents in a colorful synchronization of love and peace."
He came to a realization that if he could control his mind, he could control his surroundings and the people he wanted to work with. Well, it paid off and Matthew got his big first break. He received an assistant management position at a mortgage office and learned how the loan process worked. Matthew also got himself a car and commuted down to Irvine from Woodland Hills for his new job, and for seven months he worked diligently and studied for his real estate license. After Matthew finished his exam he walked to his car with the results, his heart was pumping with nervousness as he opened the letter. It said, "Congratulations on passing your real estate exam". He read this line three times to make sure he wasn't reading it incorrectly. Matthew had been studying and working so hard for this moment.
"I called my girlfriend first with tears in my eyes, and then I called my big brother to tell him the news. I have my brother to thank for my opportunities."
It was shortly after this that Matthew bumped into a friend at the gym and told him the good news. Matthew's friend referred him to someone that was an agent with Keller Williams and helped them get connected. Now Matthew is working with the number one brokerage in the world and continues to set his goals high. If you or a friend are looking to buy a house or sell a house, contact Matthew, he would be more than happy to represent you.
Matthew Jehle
310-922-9424
mattjehle(at)kw.com
http://www.mattjehle.kw.com
Keller Williams World Class
30700 Russell Ranch Road
Westlake Village, CA 91362