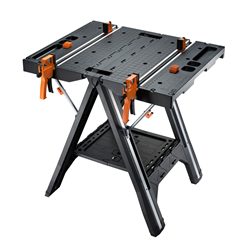 Charlotte, N.C. (PRWEB) November 15, 2016
The new WORX® Pegasus™ Worktable solves the homeowners' dilemma of whether to get a workbench or sawhorse, because this portable workstation is both. An ideal pairing with the Pegasus Worktable is the WORXSAW Compact Circular Saw, which weighs only 4.4 lbs. and still cuts 2x4s with a single pass.
The portable, 30-lb. Pegasus Worktable folds in half to become a sawhorse capable of bearing loads up to 1,000 lbs. and can be joined with a second Pegasus or WORX Clamping Sawhorse.
The workstation's 31 x 25 in. tabletop has two built-in aluminum channels to house two 18 in. quick-clamps. The quick-clamps secure wood to be cut and workpieces to be glued, sanded, polished, stained and more. Plus, strategically placed slots in the tabletop house four clamp dogs to secure circular and irregular-shaped workpieces. For storage, the quick-clamps lock in place beneath the table. Even though it's portable, Pegasus is a sturdy work station that supports loads up to 300 lbs.
Converting from a worktable to sawhorse is quick and easy. The tabletop's extension wings are braced by struts on both sides of the workbench. These table wings fold down and lay flat on both sides of the sawhorse until converted back into the worktable. Two notches at both ends of the sawhorse are designed to hold 2x4's. When 2x4's are placed in these notches, they elevate 4x8 sheet goods for clamping to help support cross-cuts and rip cuts without cutting into the sawhorse.
Innovative Pegasus interlocks with another Pegasus tabletop (optional) from the side or back through Link-Lock. This expanded work surface area is handy for multiple projects.
To complement the Pegasus Worktable, homeowners should consider adding the new WORXSAW Compact Circular Saw. This lightweight portable saw has a 4-1/2 in. blade that cuts dimensional lumber up to 2 in. thick in a single pass. It's up to 50 percent lighter than full-size, 7-1/4 in. circular saws.
Easy to transport and maneuver, the compact saw's slim, inline grip design provides comfort, balance, and control. It's great for cutting trim, siding and sheet goods, as well as making plunge cuts, without the bulk or weight of full-size saws.
The saw's 4-1/2 in., thin kerf blade is less than half the thickness of larger 7-1/4 in. circular saw blades. The smaller, thinner blade takes less effort and motor strain to cut through materials. At 4 amps and 3500 rpm, the saw handles the tough jobs, too.
The compact circular saw features a left-handed blade design for greater cut-line visibility. Its metal, retractable, lower blade guard is the same as those found on traditional circular saws. There's a depth-of-cut adjustment lever for quick and accurate blade height setups up to 2 in. The saw's bevel cutting capacity is 0-45°. A push-button arbor lock provides fast blade changes.
The saw's maximum cutting depth at 90° is 1-11/16 in. and its bevel capacity at 45° is 1-1/8 in. In addition, the WORXSAW Compact Circular Saw has a dust extraction port and a
1-1/4 in. vac adapter for dust collection.
The WORX Pegasus Worktable (WX051, $119.99) and WORXSAW Compact Circular Saw (WX429L, $59.00) are available at http://www.worx.com and other online retailers, including Lowe's, Walmart, Home Depot, Amazon and Menards. They are covered by the WORX 3 year warranty.
To reach out to WORX social media links visit: Facebook: https://www.facebook.com/worxus?ref=hl; Twitter: https://twitter.com/WORXTools; Pinterest: http://pinterest.com/worxtools and Instagram: @WORXTools
# # #