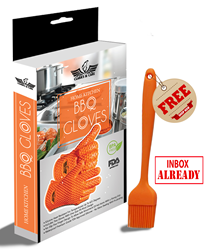 Only $16.99
(PRWEB) November 17, 2016
Sillicone Gloves is one of the new products in kitchens recently. Silicone is a naturally heat resistant material up to temperatures of 425 degrees Fahrenheit, so it can handle extremely hot items without sustaining damage. Silicone gloves are reliable protection from ovens, grills, and other high -temperature cookware. They are FDA approved and use food grade materials for safely handling foods directly.
Clarks & Care delivers superior value with this set of silicone oven mitts. Detailed pictures and further information can be found at: https://www.amazon.com/dp/B01MDODR5K. This product is backed by a 100% money back satisfaction guarantee. This set of two silicone bbq gloves and matching basting brush is perfect for cooking indoors, grilling outdoors, handling campfire tools, and more.
Like all oven mitts, Clarks & Care Gloves work by deflecting heat throughout the material and distributing the energy. These grilling gloves allow you to handle hot materials for longer periods of time than regular mitts. Silicone protect your hands longer than other materials, but care should always be taken when handling hot cookware. No material is a perfect insulator, but silicone will give the best possible protection with the most flexibility.
Clarks & Care mitts are made from food-grade silicone materials. They are absolutely safe to handle your food directly on the grill or cooking surface. The gloves will not absorb odors or juices from your food. The silicone BBQ brush will never stick to your food or leave material behind. Simply rinse the mitts or brush after handling food and move to the next dish with no risk of transfer or contamination.
This set of two silicone bbq gloves allows you to use both hands when handling dangerously hot cookware and foods. The material is completely waterproof and covers the wrist, protecting the hands and keeping them safe and dry at all times.
Silicone grilling gloves stand up to long term use without staining or building up unpleasant odors. The silicone material is BPA free and cleans easily with hot water and ordinary dish soap. This grilling set includes a silicone basting brush to match the grilling gloves, made to the same exacting standards as Silicone gloves. When you have finished cooking, the entire set is dishwasher safe for easy cleanup.
Original Clarks & Care BBQ Grilling Cooking Gloves are FDA approved for all regular usage and conveniently sold in one-size-fits-all.
For more info, photos, even details, Visit: http://clarkscaremart.com/. Or contract Mr. John Clarks, Manager of service center at: support(at)clarkscaremart(dot)com.