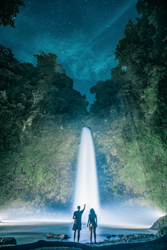 "Light is the most creative tool any photographer/videographer can use when capturing a moment in time, so to see what Lume Cube has created makes this one of the most exciting partnerships we've ever engaged in" Jeremy Jauncey, CEO Beautiful Destinations
San Diego, CA (PRWEB) November 22, 2016
Lume Cube and Beautiful Destinations are proud to announce a strategic partnership that includes content production, cross-promotion, marketing distribution and collective innovation. As part of the partnership, Beautiful Destinations, through its investment fund ADG Ventures, has taken an equity stake in the Lume Cube brand. Together, the partnering companies plan to achieve and distribute a new level of content the world has never seen before.
With the products created by Lume Cube and the audience/distribution platform brought to the table by Beautiful Destinations (over 10.5+ million social followers), a marriage between the two is quite fitting. Beautiful Destinations specializes in providing a strategic approach to marketing through social media and will leverage their content creation and data science teams to create and distribute content across the world.
"Beautiful Destinations' analytical approach to social marketing as well as their unparalleled content creation abilities is unmatched in today's market," said Founder and CEO of Lume Cube, Mornee Sherry. "We share a deep passion for incredible content and have the same vision of where the market is going, so to join forces with Jeremy and the team at Beautiful Destinations was a natural fit. With the resources we have collectively, we'll be able to support each other in executing our vision and scale the businesses more efficiently & effectively."
"Light is the most creative tool any photographer/videographer can use when capturing a moment in time, so to see what Lume Cube has created makes this one of the most exciting partnerships we've ever engaged in," said Jeremy Jauncey, Founder & CEO of Beautiful Destinations. "We shoot all over the world in all varieties of conditions and have fallen in love with using the product, so investing in the business was an obvious next step for us. We believe Lume Cube opens up a whole new category of content that the world has never seen before and we couldn't be more excited to join Lume Cube on this journey."
About Lume Cube
Lume Cube (http://www.lumecube.com) is a San Diego based company revolutionizing the way people capture content. Creating intelligent solutions in the world of imagery and casual capture devices, Lume Cube is disrupting the status quo and has created the world's most captivating lighting devices. From surfer to mountaineer, foodie to photographer and professional to consumer, Lume Cube creates products that are companions to all. Led by former tech executives, athletes and imagery specialists, Lume Cube was established in 2014 and will continue to lead the content creation market through forward thinking solutions...See More. Do More. Be More.
About Beautiful Destinations
Beautiful Destinations is the award-winning creative agency behind the largest travel and lifestyle community on Instagram, Facebook & Snapchat. With over 10.5 million followers in 180 countries we create "social first" content for some of the world's best brands, governments & NGO's helping them to generate a return on social media through visual story-telling. The content campaigns we create for our clients are distributed across our owned media channels as well as paid media through our Instagram & Facebook ad buying technology. Our team are experts in creating and distributing photography, drone and video (regular, vertical & 360) content for today's mobile, millennial audience.
Our investment arm backs high growth businesses with money, social media expertise and access to our network of followers.